A Dundee woman with a fear of bridges tackled her phobia head on in a bid to win her daughter a dream wedding.
Moira Mason, 60, a counter colleague at Asda, has feared bridges ever since she fainted on a diving board. She then plummeted into the water below.
After her daughter Stephanie, 25, and her partner Marc, 28, entered a competition to win a wedding by fundraising for Cash4Kids, Moira decided to face her fear and walk over the Tay Road Bridge.
She said: "People speak about their fear of spiders and how they scream, — bridges were the same to me. People should face their fears. They might get a shock or a fright but it's worth taking that step out of your comfort zone."
"I went up on the bridge with my partner and I started walking. I thought I was half way across but then my partner told me that I had actually only taken ten steps.
"He told me I was doing really well but then when I actually got half way I was screaming and crying. I said to myself 'I don't do failure' and just went for it.
"We were only going to do it one way and then phone someone up and beg for a lift back to Dundee but when I got to the other side I decided I would come back across it.
"I was crying when I got back off the bridge.
"I just kept telling myself that it was raising money for charity.
"Now that I have done it, even though I don't know if I would be able to do it all again, it is less scary thinking about it."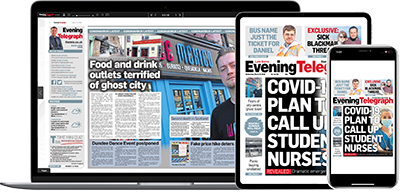 Help support quality local journalism … become a digital subscriber to the Evening Telegraph
Subscribe