Scotland's Health Minister is set to challenge Ninewells parking bosses over controversial plans to raise parking fees for staff and visitors.
Jeane Freeman, the Cabinet Secretary for Health and Sport at Holyrood, is writing to Indigo Infra Dundee Ltd to urge the company to rethink its plans to put up charges from next month.
The Tele is running a campaign calling for Indigo – which runs Ninewells parking facilities on behalf of NHS Tayside as part of a 30-year private finance initiative (PFI) contract – to Freeze the Fees at existing levels until at least next November.
Our petition, which has attracted more than 1,600 signatures so far, can be signed below.
You can support our campaign by signing our petition, which asks Indigo Infra Dundee Ltd to keep its car park charges at existing levels until at least November next year.
Ninewells is one of only three hospitals in Scotland where visitors and staff have to pay to park.
Ms Freeman says she would like to abolish hospital parking fees across the country altogether, but is unable to do so given the contracts that were signed several years ago.
However, the MSP for Carrick, Cumnock and Doon Valley is backing the Tele's campaign to keep fees at current levels and will put her views in writing to the Watford-based firm.
She said: "Charging to park at a hospital puts an unnecessary financial burden on families and those needing treatment.
"We have previously raised with the company concerns about moves to increase these charges and I will be writing to the company to ask them to reconsider.
"I have been clear with health boards that we expect them to work with their PFI contractors to ensure that any charges in place are kept to a minimum and I expect all PFI contracts to be kept under review to ensure best value for the public purse."
A spokesman for the MSP added that the letter would be sent to the company in the next few days.
The cost of a single visit at Ninewells would rise from £2.30 to £2.40 under the proposals, the third increase since 2016.
Costs for staff permits would also go up.
Under the PFI contract, which runs out in 2029, Indigo makes decisions on whether to raise the fees – though it must do so in line with the retail price index (RPI) which measures changes in the cost of goods.
NHS Tayside is consulted on any planned rises but only to ensure the private firm is sticking to the terms of the contract.
In its only public statement on the planned hike, the company said: "Parking at Ninewells Hospital falls under a long-standing contract between the (NHS board) and Indigo, which concludes in 2029.
"As part of this, although Indigo manage and govern the car park, all prices are agreed by both NHS Tayside and ourselves."
A spokeswoman for NHS Tayside said: "Indigo is responsible for the parking charges on the site.
"In accordance with the PFI contract, there is an annual review of parking charges which is linked to the retail price index.
"When Indigo advises NHS Tayside of any proposed changes to parking charges, these are reviewed by NHS Tayside to ensure they meet contractual obligations before they are implemented."
The Tele revealed earlier this week how the previous health secretary, the SNP's Shona Robison – who also represents Dundee East – had repeatedly rejected calls from members of the public and fellow politicians to scrap the PFI contract.
She repeatedly told constituents and even her own party members that the costs of buying out the contract would put too much of a dent in NHS resources.
However the Scottish Government has refused to reveal what the cost of buying out the contract would be.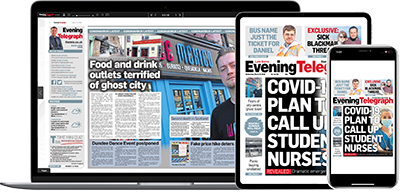 Help support quality local journalism … become a digital subscriber to the Evening Telegraph
For as little as £5.99 a month you can access all of our content, including Premium articles.
Subscribe