It would probably be Dundee's greatest musical line-up.
Michael Jackson, AC/DC, Foo Fighters and Bruce Springsteen are all gracing the stages of venues across the city.
Of course, it's not the real thing but tributes to some of the world's top acts are becoming big business in Tayside.
The country's largest touring tribute festival, Fake Festivals, returns to Lochee Park in July having descended on Perth earlier this month.
Tributes to acts of all genres have become major features on the ever-changing Dundee music scene with several lined up for venues such as the Whitehall Theatre, Beat Generator and Fat Sam's.
Last year's Dundee Fake Festival attracted 1,200 revellers under a marquee with organisers hoping to beat that number for this year's event.
Dundee still has a reputation for producing up-and-coming bands but promoters have expressed their concern at a dwindling interest in live music.
But tribute acts are now becoming a major staple with a director from the Whitehall Theatre recently revealing that performances were bringing in big business for the historic venue.
Loryn Cura, along with sisters Sarah Cowmeadow and Rachel Shilliday, front a Scottish tribute to The Andrews Sisters.
And according to Loryn, the Perth trio, dubbed the McAndrews Sisters, have seen an increase in bookings and interest in nostalgia with only two years of performing under their belt.
She said: "We started in 2016 when we were asked to put on a charity concert.
"From then on we've just been doing it all over. I used to work on a cruise ship so I wanted to get my feet on the ground and still perform.
"We do a lot of weddings, particularly when they're doing the photos and people are just waiting around, but we do a lot of different shows.
"We're definitely seeing more of an increase in nostalgia acts and tribute bands. We've been getting more bookings and we're seeing a lot of these different nights popping up."
Among the acts set to perform in Dundee in June are the Navi: King of Pop as Michael Jackson at the Whitehall, Hell's Bells UK at Fat Sam's and UK Foo Fighters who will be taking to the stage not only at Beat Generator but the opening ceremony of the WUKF Karate Championships at Dundee Ice Arena.
Rewind Festival sees thousands of 80s-loving music fans take over Scone Palace over a weekend in June.
And Loryn believes the love of nostalgia and tribute bands is only going to grow in the next few years.
She added: "A lot of people just love going out, dressing up and re-living the eras that they like the best. It's as if they are transformed back to that time and that's what we want to do.
"We kind of put our own twist on things with a Scottish element to those old songs and I think that's the attraction with a lot of tribute bands because it's a similar thing.
"The Fake Festivals seem to be getting quite popular now and I think we'll only see the tribute scene grow."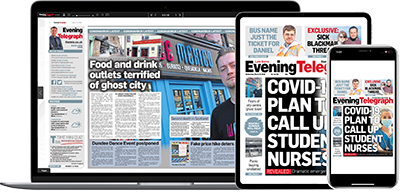 Help support quality local journalism … become a digital subscriber to the Evening Telegraph
For as little as £5.99 a month you can access all of our content, including Premium articles.
Subscribe