The Met Office has issued snow and ice warnings for Tayside.
The forecaster says "temporary blizzard conditions" could affect areas of Perthshire and Angus on Monday from the afternoon until the evening.
A yellow snow warning will be in place from 2pm until midnight. A separate one for ice across the whole of Tayside and Fife will be in place from midnight until noon on Tuesday.
The Met Office warning says: "A band of rain with snow falling above around 300m (984ft) is expected to move across Scotland on Monday afternoon and evening.
"1cm-3cm (0.4in – 1.2in) of snow is likely above 300m with 10cm (4in) of snow above 500m (1,640ft). Temporary blizzard conditions are also likely with strong winds.
The ice warning says: "A band of rain will clear Northern Ireland on Monday evening with surface temperatures falling away behind this and icy stretches likely to form on some untreated surfaces.
"Wintry showers will push into the country from the northwest overnight, with a few centimetres possible across northern and western counties, especially over higher ground."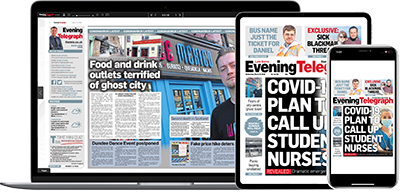 Help support quality local journalism … become a digital subscriber to the Evening Telegraph
For as little as £5.99 a month you can access all of our content, including Premium articles.
Subscribe