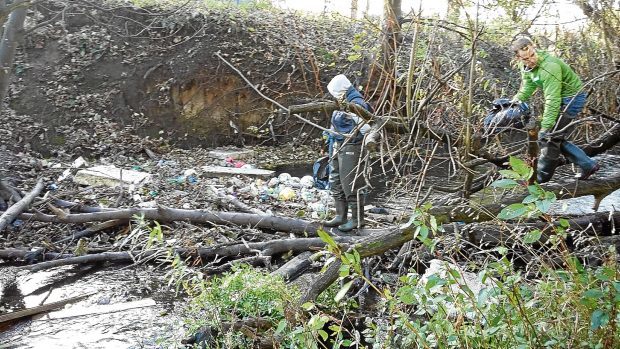 Huge piles of rubbish have been pulled from a Dundee burn following a major clean-up.
Volunteers managed to collect mounds of waste from the Dighty Burn as part of their latest efforts to keep the water free of rubbish.
Waste of all kinds was piled high after being pulled out of the burn.
Among the items recovered by the Dighty Connect group included mattresses, microwaves and chest of drawers.
The waste has now been transferred into skips to be uplifted by Dundee City Council.
A post on the Dighty Connect Facebook page stated: "This afternoon our French volunteers helped to pull rubbish out of the Dighty.
"We now have a licence to take it to the Dundee council skips without charge, as we are a charity.
"It was shocking to see the waste of all types piled high!"
The group has carried out several clean-ups of the burn throughout the course of the year.
Supermarket trollies, a tricycle, road signs, barriers and traffic cones have all been pulled from the Dighty in 2017.
Fly-tipping has been a regular concern for councillors and nearby residents along the Dighty Burn.
Andrew Llanwarne from Friends of the Earth Tayside praised the latest clean-up, but expressed his disappointment with continued fly-tipping issues.
He said: "We know that fly-tipping occurs at many locations across Dundee and Angus.
"They are often secluded or dark areas such as the Dighty where the perpetrators believe they can basically get away with it.
"It would be disappointing if groups like Dighty Connect were to report any increase in fly-tipping around that area.
"It's a serious problem in Dundee and indeed Tayside, as well as across Scotland."
Andrew added: "People do not take responsibility for the effects their actions have on the environment.
"There are ways of disposing their waste materials. You can take them to a recycling centre if it's commercial waste.
"It's easily done.
"We're very concerned about it and there should be as much effort as possible by the local authorities to clamp down on these sort of actions."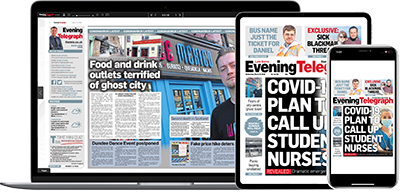 Help support quality local journalism … become a digital subscriber to the Evening Telegraph
Subscribe