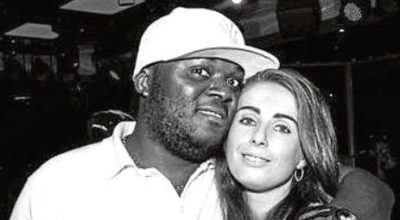 A married couple who racially abused two shop workers have been jailed for a total of nine months.
Danielle Ward, 32, and her husband Emmanuel Nsiah, 36, of Sandeman Street, appeared before Sheriff Alastair Brown at Dundee Sheriff Court.
Ward admitted that on July 5 last year, at Mothercare in Gallagher Retail Park, she behaved in a threatening or abusive manner by repeatedly shouting, swearing, uttering racially offensive remarks, behaving aggressively and refusing to leave, despite repeated requests to do so.
Nsiah admitted that on the same date, in Matalan in the retail park, he repeatedly shouted, swore and uttered racially offensive remarks.
Depute fiscal Lynne Mannion said the pair had been seen in Mothercare going towards the exit with items in their possession by an employee who thought there was a possibility that they planned to steal them.
She added: "They left the store but Ward later stormed back in and started shouting and swearing at the employee who had asked them to leave earlier.
"The accused challenged her about contacting other businesses in the area and about an alleged racist remark she made about her co-accused."
Ms Mannion said that Nsiah entered the store and Ward made a racist comment to the employee who then told them to leave. She added: "A call was made to Matalan by the employee of Mothercare with a description of the pair, warning other shops to be aware."
The court heard that the couple were seen entering the store and a male employee recognised them from the description.
The fiscal said: "The employee saw Ward with clothing and she was asked to hand it over but initially refused.
"However, when threatened with the police she threw the clothes towards him and left with Nsiah."
Ms Mannion told the court the man followed them both out to make sure they left, at which point Ward swore at him and then said "you are a racist".
As they were leaving the shop, Nsiah made a racist remark to him and he called the police.
Ward's solicitor George Donnelly said: "She tells me they had taken some illicit drugs on the day in question.
"When she was asked to leave Matalan, she was told there had been a telephone call from another shop, telling them to look out for a girl with brown hair and a black man.
"There was a perception of racism, which she says she has witnessed towards her husband in the past.
"She was using a considerable amount of heroin on a daily basis and that was being funded by shoplifting."
Nsiah was sentenced to three months in jail and Ward to six months.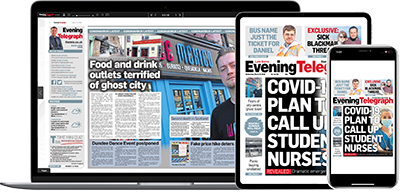 Help support quality local journalism … become a digital subscriber to the Evening Telegraph
Subscribe