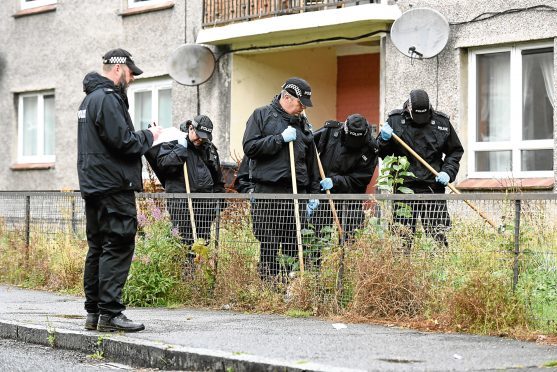 A teenager has told how she watched her mother being stabbed by the woman accused of her murder, who then allegedly held the blade to her throat as she lay bleeding.
Siobhan Russell, 30, is standing trial accused of killing Marie Low, 36, by striking her with a knife at Ballantrae Terrace on September 4 last year.
The High Court in Aberdeen has heard how Ms Low and the accused had fought in the street before the former's death.
On Friday, Ms Low's 18-year-old daughter, Jamie-Lee Low, gave a tearful account of the moment she said Russell stabbed her mother in front of her.
Ms Low, who was pregnant at the time of the incident, said: "Siobhan came out and she had the knife in her hand — she was shouting and screaming.
"My mum said '******* c'mon then' and started to walk towards her – I tried to get in the middle and told Siobhan to stop because I was pregnant.
"They were fighting and I was screaming for help.
"I watched her stab my mum – I watched her stab the knife into my mum's chest or belly area.
"After she stabbed my mum, her and Siobhan ended up on the floor – my mum was lying on the floor and Siobhan held the knife to my mum's throat.
"I grabbed her by the hair and I kicked her in the face."
Ms Low told the court that she had been at her mum's house for breakfast, but the pair had ventured to the home of Russell after finding a jacket that belonged to the accused.
She said that the pair shouted on Russell from outside her home, and she then came out of the block carrying a knife.
The accused and the deceased began to fight in the street, before Russell "stabbed" a knife into her mum's chest in front of her, Ms Low said.
The witness said that her older sister, Demi Hodge, 20, then ran to the scene and grabbed the hand in which Russell was holding the knife — and that Russell then left the scene and went into her flat.
Ms Low said that she stayed by her mum's side until ambulances arrived, and was then taken home by police.
Iain Patterson, representing Russell, asked Ms Low why she had failed to include details of the jacket and claims about the accused holding a knife to her mum's throat in her original statement to police.
She replied: "I had just watched my mum be stabbed to death — I had just heard that my mum was dead."
The court had previously heard accounts from witnesses stating that they had seen mother and daughter walking "in an aggressive manner" towards Russell's property — however Ms Low disputed those accounts.
She added: "We were going there so that my mum could tell her that the jacket was washed and dried and so that they could sort everything out."
Mr Patterson suggested Marie Low had "battered" Russell and that "unfortunately your mum was stabbed in the melee". The witness replied: "No that's not right".
Russell, formerly of Ballantrae Terrace, faces two charges — one of behaving in a threatening manner to Ms Low and another of murdering her with a knife or similar instrument.
The accused denies the charges against her, claiming self-defence.
The trial continues.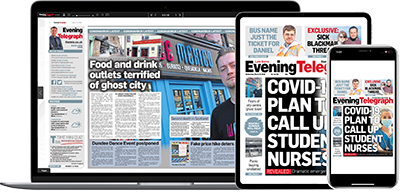 Help support quality local journalism … become a digital subscriber to the Evening Telegraph
Subscribe