A man has admitted raping a teenage student in a Dundee car park.
Mark Arnott is facing a lengthy prison term after his "horrific" attack last November – which was captured entirely on CCTV.
At the High Court in Glasgow on Friday, the 37-year-old admitted that on November 23 last year, at a private car park on West Henderson's Wynd, he assaulted the 18-year-old, approached her from behind, seized her by the body and threatened to stab her with a knife.
Arnott then restrained her, dragged and pushed her against a wall and demanded that she remove her clothing, then raped her.
The court heard Arnott's victim begged him not to carry out his attack. She can now no longer go outside on her own.
The court was told that, at around 8.10pm on the evening in question, the woman saw Arnott – who was unknown to her – standing smoking on a pavement on Guthrie Street.
She walked past him and he ran after her, grabbing her by the shoulder and saying: "Come with me. I've got a knife. I'll stab you."
The woman believed he would carry out his threat when she was dragged across the road, despite her attempts to struggle.
CCTV footage was played to the court showing a number of parked vehicles in the car park where the attack took place.
Arnott repeatedly told her to take off her clothes while pinning her against a wall.
The terrified woman repeatedly said to him: "No, no, please. I'll do anything."
But Arnott took no heed of her pleas and raped her.
In a bid to keep him calm, in the hope he would release her, the victim began talking as if the ordeal was consensual.
At around 8.35pm, she saw a group of people leaving the nearby Downfield Musical Society.
After screaming for help, Arnott fled the scene and the woman was helped by the group with certain members giving chase.
Arnott fled but was traced by police on November 26 at his work after DNA evidence was obtained.
It was revealed that Arnott carried out his sick attack just 20 days after his release from a prison sentence for robbery.
Sentence was deferred until July 31 at the High Court in Glasgow and he was placed on the sex offenders register.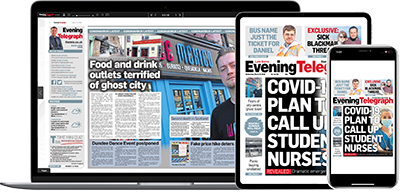 Help support quality local journalism … become a digital subscriber to the Evening Telegraph
Subscribe