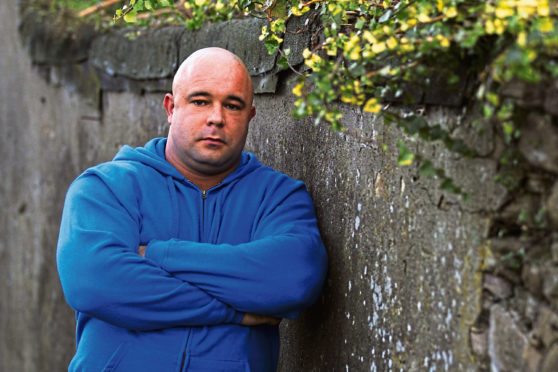 A former Royal Marine facing jail after admitting making a DIY bomb and dealing CS spray caused an explosion with materials in a hair gel tub.
Allan Peach, 30, caused a mass evacuation of the area surrounding his flat on Carlochie Place on September 6 where officers found a cache of weapons.
When police foiled his operation, Peach said: "I am not a bad man. I'm just trying to make ends meet."
Peach pleaded guilty today to making a pipe bomb, and having materials to make nine other devices. He also admitted possessing CS spray for sale.
Just six years earlier he was jailed for causing an explosion at flats on Cullen Place with materials in a hair gel tub.
The High Court in Glasgow heard how one of Peach's neighbours struck up a friendship with him.
After being invited round for a coffee, he noticed Peach – an agriculture student at D&A College – had canisters of CS spray in his living room, which he asked his friend to take photos of.
Soon after, it was apparent Peach was advertising the canisters for sale. Police received intelligence that he was concerned in the supply of CS spray at his and his mum's addresses.
Officers attended Carlochie Place at 9.50am on September 6 but there was no reply, with a joiner called out to gain entry.
They discovered CS spray canisters in the living room and a lockfast safe along with a dark powder and metal pipes in his bedroom.
At 11.05am, Peach returned home and was detained while a search was carried out. He said he had a key for the safe which contained CS spray and a pipe bomb which was manufactured with a copper pipe and a fuse attached to the end.
Explosive ordnance officers were drafted in and made the device safe. The court heard that 56g of powder, found to be potassium nitrate and magnalium, was contained in the device.
Experts deemed it to be "poorly-made and low explosive".
Further material was found in Peach's bedroom which was deemed to be enough for him to make another nine pipe bombs, while 19 canisters of CS spray were recovered.
The court heard that Peach was suffering from severe depression and anxiety at the time, as well as heart problems.
After being taken to police headquarters, he became tearful and feared he would be going to prison for "maybe longer this time".
Solicitor advocate Chris Fyffe said he would reserve mitigation until the completion of criminal justice social work reports.
Sentence was deferred until January 31. Peach was remanded in custody meantime.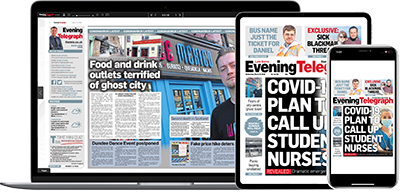 Help support quality local journalism … become a digital subscriber to the Evening Telegraph
For as little as £5.99 a month you can access all of our content, including Premium articles.
Subscribe