A Dundee man got the surprise of his life when he saw his house being struck by lightning.
Lewis McGregor was arriving at his home late on Friday evening when he saw the strike on his chimney.
Thunder and lightning was raging across the city at the time as weeks of warm, dry weather came to a dramatic stop.
Lewis, 28, of Fleming Gardens North, was getting out of his car when he spotted lightning travelling down through the chimney and exiting via a neighbour's flat.
He has since been left without a working television or internet and the telephone lines in his living room are damaged.
Lewis said: "I just saw a massive lighting bolt hit the roof.
"I knocked on the downstairs neighbour's door to see if they were all right and told them to phone the fire brigade.
"I then went to check on my own flat.
"Everything was fine apart from the TV and the internet.
"The fire and rescue service attended and checked everything.
"Luckily the building is fine."
Speaking about the lightening strike, Lewis said: "It was really surprising.
"It's unusual to see lightning that close."
Stephen Miller, another resident who also witnessed the strike, said: "I saw sheet lightning which lit up the whole street.
"It lasted about a second and a half.
"I heard a crack and knew it had hit something so I stepped away from the window.
"The whole of that bit of the street lit up.
"It was an unusual thing to happen.
"That was the first time I've seen a sheet of lightening so it did come as a bit of a surprise.
"The crack was very loud."
A spokesman for the Scottish Fire and Rescue Service said: "There was no fire.
"It was a false alarm with good intent."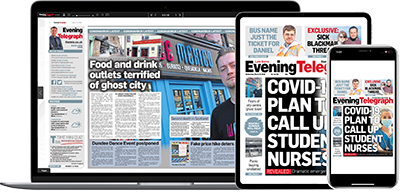 Help support quality local journalism … become a digital subscriber to the Evening Telegraph
Subscribe