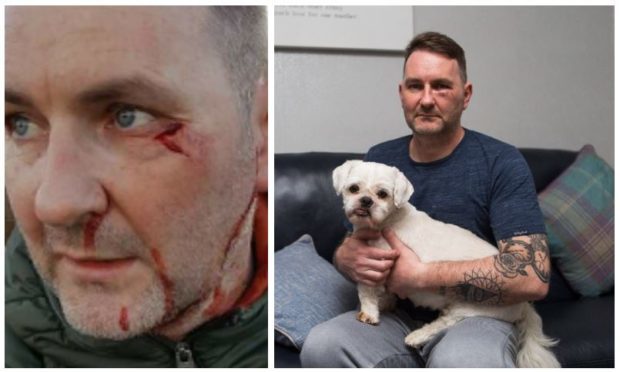 A man has spoken about the terrifying moment he and his family pet were attacked by four "out-of-control" dogs.
Scott Anderson, of Ballumbie, was left with severe bites to his face while his dog Fudge, a four-year-old shih tzu, had to be examined by a vet for puncture wounds.
The 47-year-old and his wife Mandy, also 47, were out for a stroll when the horrific attack took place.
The couple were on the cycle path which runs from Sainsbury's to Drumgeith Road, at the back of the Michelin factory, around 4pm on Sunday.
Scott told the Tele that "one minute they were walking along happily" then they were attacked by four dogs, three of which are believed to be clumber spaniels.
The other is thought to be a mongrel.
He added: "We could see a man and a woman and four dogs approaching us. Two of the dogs were on leads and two were running free.
"Initially, we didn't think anything about it but the next thing one of the dogs on a lead made a lunge for Fudge.
"The dog was on him in seconds, really having a go. Then the other three joined in and started trying to throw him about.
"I flung myself on to Fudge to try to protect him from the attack from the four dogs."
Scott said the couple took no action to try to stop their dogs.
He added: "My wife was hysterical and shouting at the couple to get their dogs off but they did nothing at all to help. One of the dogs lunged at my face and bit me.
"Once the other dogs got the scent of my blood, it really seemed to set them off even more.
"Eventually, I managed to grab Fudge and get him to safety. By this time, the couple had taken off.
"The whole episode was horrible. I can't believe the dogs were so out of control and that they were left to attack us in this way."
Scott said he was badly hurt and went to hospital to receive treatment.
He added: "I was given antibiotics to prevent infection and the wound at the side of my eye was glued because it was bleeding so badly. Another wound on my ear was left open to allow any infection a chance to get out."
Fudge was seen by a vet for puncture wounds to his back, and Scott added: "Since the attack he has been very quiet.
"He is refusing to go out of the house when I try to take him for a walk."
The attack comes after the Tele revealed council animal control officers had received 594 reports of dangerous dogs in the last three years, while at least 172 people in Tayside were admitted to hospital in the same period for injuries related to canines, including at least 19 children aged 10 or under.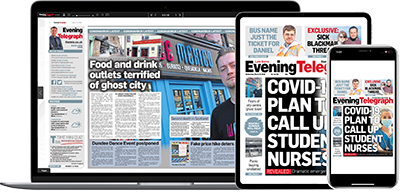 Help support quality local journalism … become a digital subscriber to the Evening Telegraph
Subscribe