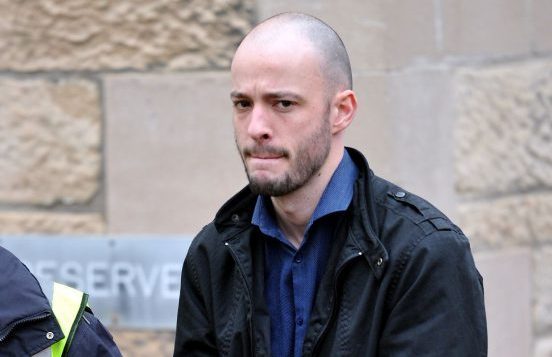 A Scottish man was today jailed after sending a video of himself sexually assaulting a screaming baby to his boyfriend.
Ryan Simpson, of Elgin, sent footage of him kissing the infant and boasted that he would have gone further and "done as he wanted" if he did not fear being caught.
The hotel worker's crime was uncovered after his partner Scott Ayres's home in England was raided by police who found the video recording.
The 29-year-old was then questioned by officers in Scotland who also discovered child pornography on his mobile phones.
Simpson was jailed for a total of 16 months at the High Court in Aberdeen after admitting four offences.
He was also placed on the sex offenders register for 10 years.
The case had previously been dealt with at Elgin Sheriff Court but was referred to the high court for sentencing.
At the earlier hearing, fiscal depute Alison Wylie said he had been in a long distance relationship with Scott Ayres when the offences took place.
According to The Press and Journal, Ms Wylie said: "They previously lived together in Bedford, Northampton, and it was when police visited another male at that address that this came to light.
"The accused was back in Scotland at the time when this other male was arrested."
The court heard that police seized all the electronic devices in the property, including a Samsung tablet which belonged to Simpson's then-partner.
Ms Wylie said that when police reviewed the device they found a "Category" A indecent video showing Simpson lewdly kissing his tiny victim.
Officers later discovered messages Simpson sent Ayres at the time the clip was recorded.
In one message Simpson asked Ayres for his email address to send on the video, and a subsequent one asked whether his former partner had seen it.
The court heard it read: "I didn't have much time, or I would have done as I wanted."
Two of his mobile phones were seized during the investigation and found to have illegal videos and a photograph stored on them.
One was graded Category A, the most serious, and featured an infant aged between six months and a year being abused.
Simpson earlier admitted charges of taking an indecent image of a baby, distributing those images, and of possessing indecent images of children.
He also admitted sexually assaulting a child under the age of 13.
His lawyer Jonathan Crowe said his client had a difficult upbringing living with foster carers.
He said he had a "chaotic lifestyle" jumping from one relationship to another "trying desperately to secure a long term partner".
Mr Crowe said his client had been pressurised into committing the child assault by his then partner and was horrified by his own behaviour.
He said: "It disgusted him and he found that Mr Ayres was not appeased but to the contrary that Mr Ayres continued to pressurise Mr Simpson to the extent that Mr Simpson terminated the relationship."
Mr Crowe said his client was involved in a violent relationship and was locked in rooms and often travelled back home to Elgin to get some space.
The court heard that the sexual assault happened on the spur of the moment and involved Simpson putting his tongue in the baby's mouth.
Lord Woolman jailed Simpson for 16 months telling him: "Mr Simpson it is in your best interests that you engage in every social work programme which is recommended to you."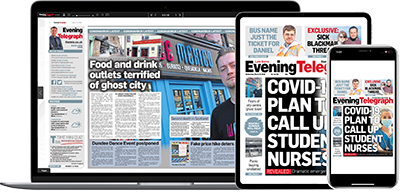 Help support quality local journalism … become a digital subscriber to the Evening Telegraph
Subscribe