A man has appeared in court accused of threatening police officers with a meat cleaver and knife after a "siege" at a Dundee flat.
Ryan Duke is also accused of barricading a property in the Hilltown and pouring accelerant through a letterbox.
The 27-year-old appeared at Dundee Sheriff Court on Monday to face allegations he behaved in a threatening or abusive manner at Ann Street on Sunday.
Duke made no plea when he appeared in private on petition and was remanded in custody and committed for further examination.
Police, Scottish Ambulance Service crews and the fire brigade were all called to Ann Street in the early hours of Sunday amid reports of a disturbance.
Residents were evacuated from their homes as armed police surrounded a building.
An area around Ann Street and Nelson Street was placed in what locals described as "total lockdown".
Residents said there was a "massive" response by the emergency services, who were at the scene for about 20 hours.
One woman who had to be evacuated said: "It's been awful, terrifying.
"I spent the night with a friend – I'm exhausted now and very upset. It was dreadful."
Unemployed David Lawson, 45, said he saw people who live in the building being led out by police officers and put in the back of police vehicles. He added: "One elderly woman was shaking and crying – she looked very upset."
One resident who had to be evacuated from his home said: "It has been very upsetting."
Sarah Smith, 26, a sports coach who lives on Ann Street, said: "There were police everywhere – at one point I counted 15 vehicles.
"There were also several police dogs – we didn't have a clue what was happening and it was scary."
Ann Street resident Rachael Woods, 24, said: "It was really frightening. There were several police officers on the street with guns.
"We had no idea what was going on. We were able to get out but when we returned about 10 hours later it was still going on and a policeman escorted us to our flat."
The emergency services were called to the scene around 3am on Sunday.
A spokeswoman for the Scottish Fire and Rescue Service confirmed they were stood down around 11pm.
A police spokesman said: "We would like to thank the public, in particular the local community and residents, for their co-operation and patience while this incident was ongoing."
Duke, of Ann Street, is expected to appear in court again next week.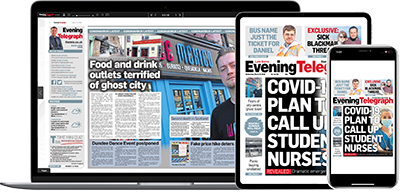 Help support quality local journalism … become a digital subscriber to the Evening Telegraph
For as little as £5.99 a month you can access all of our content, including Premium articles.
Subscribe