A man has filed a complaint against Police Scotland after he was twice handcuffed on the street in just his pyjamas and driven back to the hospital he had discharged himself from.
Former solicitor Tom Connelly, 61, said he was left sore and bruised after being "manhandled" by officers and taken against his will first to Ninewells then to the Carseview Centre.
Mr Connelly, of Byron Crescent, has spoken publicly about his mental health in the past, and has attempted suicide on several occasions.
He is bipolar and has anger management issues, Asperger's, epilepsy, a personality disorder and clinical depression.
On Monday night he called NHS 24 during what he called "a bad episode" after suffering a seizure – something he has done in the past when he has felt down.
"I phoned NHS 24 to ask for help, for someone to talk to," he said.
"Not long after I made the call police arrived at my door and called for an ambulance.
"I was taken to Ninewells where I was checked over and then allowed to leave.
"I was walking home when suddenly two police cars and a police van with 10 police officers and two dogs pulled up, put handcuffs on me, and forced me into the van and took me back to Ninewells."
Mr Connelly claims he was allowed to leave Ninewells a second time, and again on his way home he was stopped by police.
"They put me in a headlock, forced me to the ground, handcuffed me and took me back to Ninewells," he said.
"I was later taken to Carseview by police but was discharged."
A spokesman for Police Scotland confirmed officers had been called over concerns for a man, who was traced and taken to hospital.
He declined to comment further, given Mr Connelly's complaint – which will be formally investigated by the force – but it's understood Ninewells staff twice called police to raise concerns about Mr Connelly's welfare after claiming he had left the hospital of his own accord.
NHS Tayside declined to comment on the matter.
'My dog is all that stops me taking my own life,' says Dundee man after several suicide attempts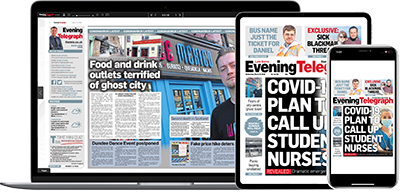 Help support quality local journalism … become a digital subscriber to the Evening Telegraph
For as little as £5.99 a month you can access all of our content, including Premium articles.
Subscribe