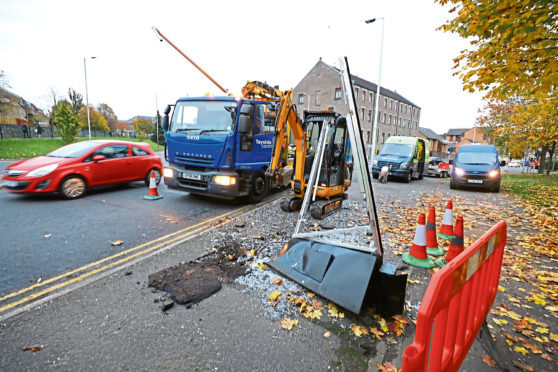 A man has been arrested following a serious one–vehicle smash in Dundee early on Friday.
It is understood the driver of the VW Golf ran off immediately after the crash at the roundabout at the bottom of Dens Road and Dura Street.
However, he was subsequently traced by police using a sniffer dog.
Extensive damage was caused to the car as well as to a traffic light, a road sign and a lamppost.
A manhunt was immediately launched and police later arrested the suspect.
A spokesman for Police Scotland said: "We attended at Dens Road, near the junctions with Dura Street and Alexander Street, shortly after 5am on Friday in response to reports of a road traffic collision.
"A VW Golf was found to have collided with a lamppost and traffic lights. The driver of the car, a 25–year–old man, has been arrested in connection with the incident."
Taxi driver Ian Sandwell was on the scene immediately after the crash.
Ian said: "The driver had taken off but the crash looked pretty horrific.
"The keys were still in the ignition and the car was in a real mess.
"I think the driver must have been hurt.
"Both the air bags had gone off and parts of the car, including the battery and a suspension arm, were strewn all over the road all the way from the Alexander Street traffic lights to the roundabout..
"The police had just arrived and there was a sniffer dog.
"I got out of my taxi to see if I could help. I wasn't allowed to return to my car before the dog had been round it.
"I think they were just confirming that I wasn't the driver of the car.
"I was eventually allowed to leave and the vehicle was moved from the scene.
"Tayside Contracts were at the scene making safe the damage that had been caused and clearing up debris."
Another eyewitness said: "When I arrived at the scene a pick-up truck was hitching up the car to remove it. I could see that it was very badly damaged."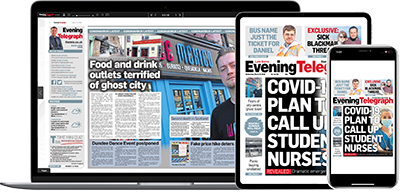 Help support quality local journalism … become a digital subscriber to the Evening Telegraph
Subscribe