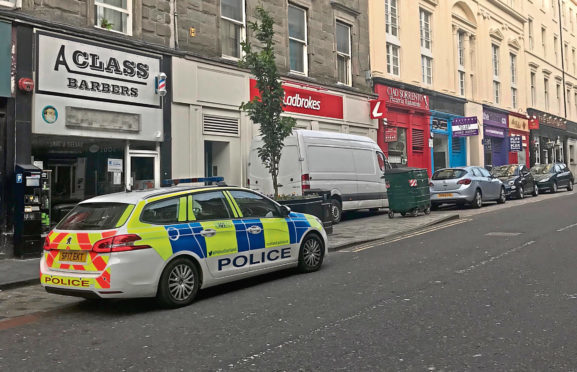 A man has been arrested after a van crashed into a Dundee city centre betting shop.
Residents on Union Street were wakened by an "almighty bang" when the white Mercedes Sprinter van struck the front window of Ladbrokes.
A spokeswoman for Police Scotland confirmed that a man has been arrested following the incident on Monday.
The collision, which took place shortly after 5am, left the entrance of the betting shop damaged.
Debris was strewn across the pavement as a result of the collision and parts of the street-facing entrance were torn off and scattered around.
One of the store's windows was also smashed, although a section of the window remained in place.
A Ladbrokes spokesman said that the shop would be closed until further notice following the smash.
Health and safety guidelines issued to store managers by Ladbrokes' head office prevent the shop from operating until the window has been repaired and the damaged facade made safe.
That is due to concerns that splintered glass and wood currently protruding from the shopfront could injure customers.
There are also concerns about the safe removal of larger parts of the damaged facade.
The van involved in the accident has been removed from the scene.
Residents of Union Street spoke of being wakened by a "huge noise".
One said: "I heard an almighty bang outside.
"It woke me up and it gave me a massive fright — I thought that it might have been scaffolders getting to work or something else like that so I didn't go to look.
"I didn't see much of what happened but I did hear a huge noise."
One man who lives close to the shop said: "I heard a massive crash – an enormous noise."
A spokeswoman for Police Scotland confirmed the force was investigating the incident and that a man had been detained.
She added: "We received a call shortly after 5am this morning regarding a one-vehicle road traffic collision on Union Street.
"A man has been arrested in connection with the matter and inquiries are continuing. No one was injured."
A spokesman for Ladbrokes said: "At present, we will be closed until further notice while health and safety concerns are alleviated and the premises are deemed safe for trading."