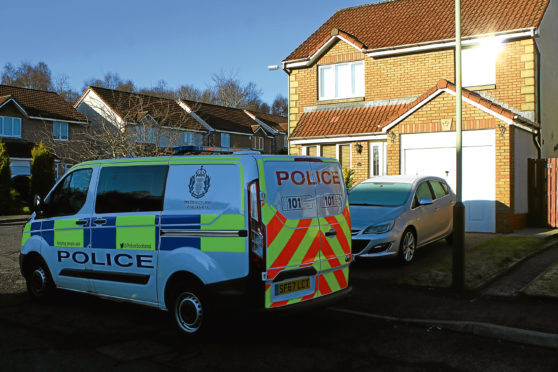 A man has been remanded to Murray Royal Hospital after allegedly attempting to murder his wife.
Douglas Snedden, 59, of Clattowoods Drive, appeared in private at Dundee Sheriff Court before Sheriff John Rafferty on a petition alleging he repeatedly stabbed Wendy Snedden.
The incident is alleged to have taken place at Clattowoods Drive on March 25.
Prosecutors allege Snedden repeatedly struck his wife on the body with a knife and attempted to murder her.
Snedden made no plea and Sheriff Rafferty ordered him to be detained at Murray Royal Hospital in the meantime while the case was continued for further examination.
He is expected to appear in court again on May 4.
Earlier this month, Police Scotland apologised after officers mistakenly smashed down the door of the wrong house while attending the alleged incident.
A mix-up saw a group of officers arrive in nearby Clattowoods Place instead. They used a battering ram to smash through the front door.
Police mistakenly broke in to the home, leaving the door badly damaged.
Speaking to the Tele at the time, neighbour Gwen Davidson, 44, said her daughter and her friends had been "terrified". She said: "My daughter had her pals staying for a sleepover.
"They're only nine and 10 years old.
"Although it was happening next door, the girls felt the vibrations coming through our living room door. They were terrified."
Following the mix-up, a Police Scotland spokesman said: "This was a genuine mistake made by officers attending a high-priority call where there was a potential threat to life.
"The officers concerned quickly realised their error and apologised to the householder.
"Senior officers attended at the home immediately afterwards to offer our sincere apologies and offer any assistance and support.
"Mistakes such as this do and will happen, when officers are aiming to attend incidents as quickly as possible.
"We do not underestimate the inconvenience and upset that mistakes such as this cause, and where there are learning points that will improve our response and service, we will take these on board."