A strange figure known only as Lycraman has been spotted across St Andrews, capturing the imagination of students throughout the town.
The unknown person, clad entirely in a blue morph suit, has been caught on video and in photos attending lectures at the university.
While it's not clear who's behind the mask, Lycraman has become a pseudo-celebrity on campus.
In recent footage posted on the popular Spotted: University of St Andrews Facebook page, Lycraman can be seen sitting in the back row of a lecture theatre.
Video, posted on social media, shows the figure sitting among other students who appear to be ignoring his presence.
As the film zooms in, Lycraman slowly turns to face the camera.
In images also posted this week, Lycraman can be seen listening to another lecture from a balcony.
Students across the town have so far failed in their efforts to discover the identity of Lycraman.
The story of Lycraman is reminiscent of the mystery of Horse-boy who shot to fame in 2010, having originally been seen on Google's Street View in Aberdeen.
In the images, the man can be seen in the Hardgate area of the city wearing dark trousers, a purple shirt and a brown and white horse's head.
Soon, as word spread of the mysterious man, sightings began to be reported across the country and even on the continent.
Horse-boy was supposedly seen in Germany, Norway, Cardiff and Norwich.
Whether the new Lycraman can live up to the international status of Horse-boy remains to be seen but there have yet to be any confirmed sightings beyond the boundaries of St Andrews.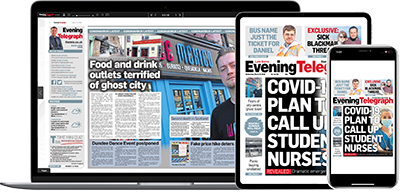 Help support quality local journalism … become a digital subscriber to the Evening Telegraph
For as little as £5.99 a month you can access all of our content, including Premium articles.
Subscribe