Police Scotland is currently dealing with a number of distraction-type thefts which have happened over the past week in Dundee.
These thefts, in the Lawside area, have all involved a person or persons attending the door of an elderly person, talking their way into their home, then distracting them by asking for a glass of water or to use the bathroom, then stealing purses or handbags while the householder is distracted.
On May 1, a 77 year old woman had a purse stolen by a man and a woman using this con.
Then on Sunday May 6, a 92 year old woman had money stolen by a man and woman, thought to be the same pair, by the same method.
And yesterday (May 7), a 98 year old woman had money stolen by a man claiming to be a gardener. He had also tried to get into other houses in the street but had been refused entry by the residents.
A police statement said: "This is a particularly loathsome and disgusting series of crimes, deliberately targeting elderly people. We are following positive lines of enquiry, but would like to remind everyone to be aware of who comes to your door.
"If you live in a building with a security buzzer, do not allow anyone access who you don't know, and do not allow any person to enter your house who you are not expecting or who has no official identification, even if they know your name.
"In particular, please be wary of those with unusual requests, such as to use your telephone, bathroom or those who ask for a drink of water. If you believe a crime is ongoing, then contact Police Scotland immediately by calling 999."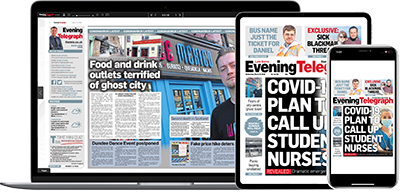 Help support quality local journalism … become a digital subscriber to the Evening Telegraph
For as little as £5.99 a month you can access all of our content, including Premium articles.
Subscribe