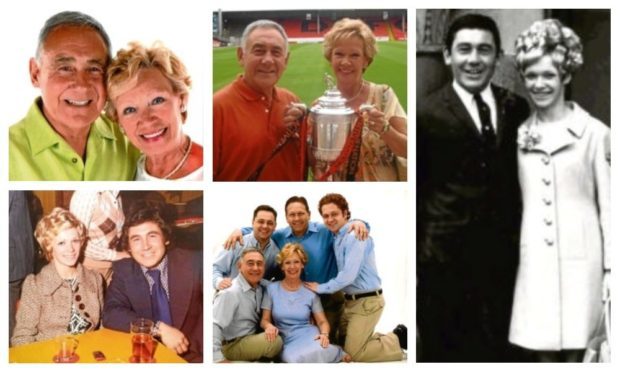 Today, we're celebrating the 50th wedding anniversary of a lovely Dundee couple who may be a long way from home, but who still have lots of friends and family in the city.
Brian and Kathleen Hammond were married by Rev John B Coupar at Meadowside Parish Church in 1968.
Brian was born in 1945, educated at Dundee High and down through the years lived in Montgomerie Square, Peel Street, Lochee and Monifieth Road, Broughty Ferry.
He worked at Bonar Long on the Kingsway from 1962-67 and later with British Oxygen Company for six years, but for some, he'll be best remembered as the drummer in the band, The Couriers.
They were the resident band at The Butterfly Lounge in The Craigtay Hotel from 1965-68 and Brian used his talents with other local bands until 1981.
Kathleen, meanwhile, is four years Brian's junior, went to Stobswell Girls School and lived in James Street, Sandeman Street and Monifieth Road.
She was a very active Scottish Highland dancer from 1953-64, having been schooled by legendary teachers Alice Fox and Charlie Mill.
Brian and Kathleen met in 1966 when The Couriers were gigging at a Wednesday rock night at the ice rink — she was skating and he was playing the drums.
"I found her down in the cafeteria at the break and we hooked up," said Brian.
"What caught my eye? I'd have to say it was her pretty smile and beautiful blonde hair. Our first date was a long walk along the waterfront at Broughty Ferry."
Kathleen says that Brian had to chase her for a while. "But he's so good looking and always happy — that's what got me in the end," she said.
"He proposed on another long walk along the waterfront a year later."
Kathleen worked at DC Thomson from 1964-74, and in 1975, they formed their own business in the city, Scotweld Distributors, a welding equipment supplier that was quite a success — and then, in 1982, they emigrated to the sunshine of Florida.
These days, they enjoy the classic retired life in Palm Coast, where Brian devotes his time to creating and selling abstract assemblage artwork from his home studio.
Both are passionate Dundee United fans and they continue to watch every game from across The Pond.
As for their three sons, Brian Jr, 49, lives in Florida and runs a trophy and engraving business, Ross, 42, is in North Carolina and works in the cosmetics industry, while Glen 36, came back to Scotland and lives in Edinburgh where he and his wife, Erin, run a skin care business.
Brian and Kathleen also have five amazing grandchildren — Scot, Jake, Gavin and the girls Rori and Mckinley.
So, what's the secret of such a long and happy marriage? "Having three sons, working hard and enjoying life together," they said.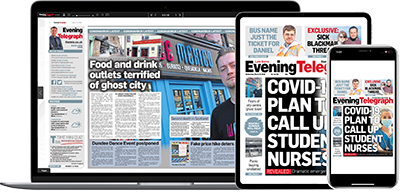 Help support quality local journalism … become a digital subscriber to the Evening Telegraph
Subscribe