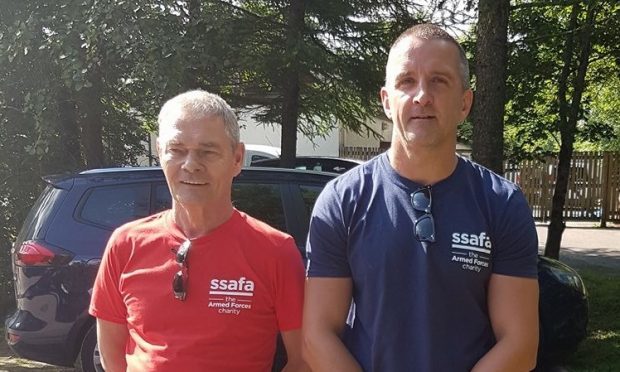 He put in 20 years in the British Army, he's a got a bit of a dodgy heart and he's just climbed up Ben Nevis for charity.
Thomas "Tam" Docherty, 67, from Fintry, in Dundee, enlisted in the Royal Electrical Mechanical Engineers in 1971
His service took him to Germany, Belgium, Denmark and even Hong Kong, and he came out in 1989 with the rank of staff sergeant.
Back on Civvy Street, Tam worked at Asda, the parks department and was a quality control inspector in Aberdeen before retiring.
Now living in Douglas, he found himself with time on his hands.
He said: "I've always been pretty fit and I fancied a challenge, so I thought, 'Why not Ben Nevis?' Being ex-forces, I wanted to do something for the Soldiers, Sailors, Airmen and Families Association and I think the total from the climb is about £700."
Also on the climb was son-in-law Iain Fenton, 47, and as he's a former Territorial Army paratrooper, he too is in pretty good shape.
"I've got to say, it was hard going," said Tam.
"Especially as I'm at the age I am and I've got angina now too."
Let's be clear, Ben Nevis is no stroll in the park. It's a long and punishing ascent over rough ground to get to the top of the 1,345m mountain.
Tam got 95% of the way to the top, while Iain managed to make the summit.
It was a splendid effort for a really good charity that looks after service personnel and their families.
Tam has four children, eight grandchildren and one great- grandson.
A fun-filled wedding, a heart-warming anniversary or maybe it's a new baby, a big birthday or someone doing something special for their favourite charity. 
We want to share the good news and let people across Dundee and beyond know that there's a lot to celebrate in our city – so give us a call on 01382 575244.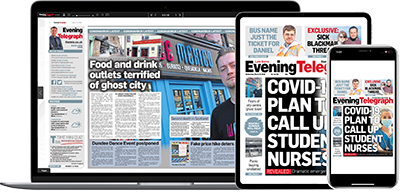 Help support quality local journalism … become a digital subscriber to the Evening Telegraph
For as little as £5.99 a month you can access all of our content, including Premium articles.
Subscribe