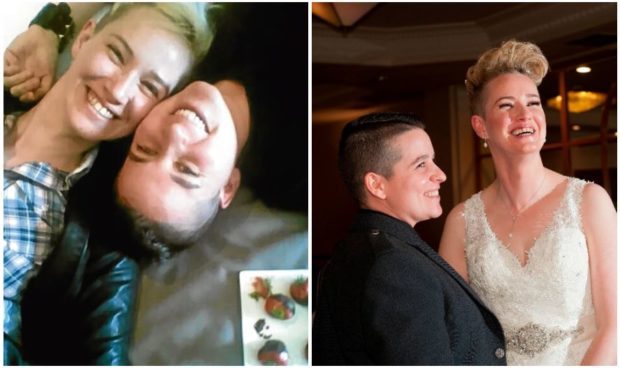 Is there anything more romantic than a wedding proposal being hand-written on a kite which danced and soared on a crisp sea breeze?
Probably not.
Was watching Amanda Stevenson trying to launch that kite when there wasn't a breath of wind the funniest thing Vicki Davies had ever seen? Yes!
The kite may not have swooped majestically above St Andrews beach but the message got across and the enchanting couple have just tied the knot in a beautiful wedding at the Woodlands Hotel in Dundee.
Amanda is a health care assistant who hails from Montrose, while Vicki was born in Doncaster but has lived in Cupar since she was 12.
Both are 30 and their story started in 2015 when Amanda spotted Vicki's profile on a dating site.
"It was her cheeky smile I noticed first," said Amanda, "and there was a sparkle in her eyes."
Messages were exchanged over the following few days and they arranged to meet at Starbucks in the Overgate on May 1 2015.
"I was there first," said Vicki, "shaking like a leaf."
Vicki is a tough cookie — she plays rugby for Howe of Fife Harlequins — and she doesn't get rattled easily.
"I saw Amanda coming up the escalator and thought 'what a stunner', she said. "She came over and we got coffee."
Amanda takes up the story. "We talked and time just seemed to fly by," she said. "Next thing we knew, the staff were starting to look at their watches because it was time to close.
"I honestly thought we'd been talking for maybe half an hour.
"We didn't want the date to end so we took my car and had dinner at Zizzi's in St Andrews."
Amanda took Vicki home to Cupar before making the trek back to Glamis where she lived.
But she knew something special had happened. "I knew from that first day," she said.
The couple met as often as they could and six months later they went for a picnic on chilly St Andrews beach where Vicki thought that Amanda's behaviour was rather odd.
"I knew something was going on," said Vicki. "She was so twitchy.
"She made me stand still while she ran up the beach and pulled something out of a bag. Then she ran about like a nutter, dragging something behind her."
In fits of giggles as she recounted the tale, Vicki added: "I thought — what is this ridiculous woman doing?
"Suddenly I realised she was trying to launch a kite. But there was no breeze!"
Finally, Amanda shouted to Vicki to run back up the beach where she found a kite stuck in the sand bearing the words "Will you marry me?"
It was the easiest "yes" there has ever been.
On the big day, Amanda was elegant and captivating in a dress by Enchanted Bridal, of St Andrews, and was given away by her mum Heather Grant.
Vicki looked suitably dashing in Hebridean heather tartan and in the traditional hand-fastening ceremony, Vicki's mum Jane Drysdale assisted with the knot.
The rings were hand-made by the couple themselves at a workshop with Scarlett Erskine Jewellery of Dundee.
The bridesmaids were Amanda's sisters Livvy Drysdale and Hannah Davidson along with best pal Lori McCrank while the maid of honour was Louise Millar.
The groomsmen were Graeme Hunter, from Dunfermline, who Vicki met on holiday in Mexico some time ago, pal Ross Fairfield, from Kirkcaldy, and David Pullar, from Montrose.
Vicki's best woman was Candice Aldrich, from North Carolina, who she knows through rugby.
It was a joyous affair with a stunning cake crafted by JM Bakery of Monfieith, entertainment by Silly Snapz and pictures by Downfield Studio Photography.
Their mini-moon was a few days in Glen Clova with hiking and a hot tub, and later in the year they're off to Thailand to enjoy a proper honeymoon.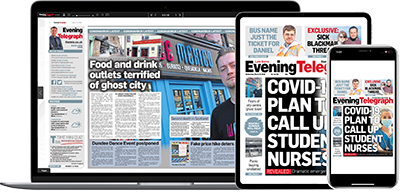 Help support quality local journalism … become a digital subscriber to the Evening Telegraph
For as little as £5.99 a month you can access all of our content, including Premium articles.
Subscribe