Love Island's Chris Hughes and Kem Cetinay have revealed their plans to release a mini-album featuring "big artists" including Stormzy.
The pair will team up with fellow Islander and former Blazin' Squad member Marcel Sommerville on the five-track EP release, Hughes said.
He said a collaboration with Stormzy – who coached the pair on their rapping during their time on the ITV2 reality show – would "100% happen".
It comes after the Big For Your Boots rapper wrote to Cetinay on Twitter that he would be "coming to link you straight away" once he had arrived back from touring Australia.
Hughes, who finished third with partner Olivia Attwood, promised fans "it will happen" in regards to a release with Cetinay and Somerville.
Hours after landing back in the UK, he said: "It's just a matter of what kind of tune we do.
"Me, Marc and Kem are going do our own EP and release that October, November time.
"We're going to have some big artists on it and that's probably where we'll come from," he said, adding "When I say big artists I mean big artists."
The 24-year-old also revealed he and Cetinay would be keen to work on a new show together.
"He's like my brother. I love being with him, we bounce off each other. I'd take anything … just gets us reunited."
Somerville joked Cetinay and Hughes were "hyped" by the plans.
He said: "These boys have got so hyped off the situation but once I do get some time we'll go in the studio and bang out like four or five tunes and just put 'em out."
The 31-year-old also updated fans on Blazin' Squad as he revealed some of his former bandmates had met him at the airport.
"I was talking to the boys about it this morning like at the airport and they were like 'Marc, there's like a lot of stuff going down, there's a lot of stuff being said, there's a lot of offers on the table but we needed to wait till you came back before we could agree to do anything'."
Somerville said he was yet to call his agent adding "I'll let you know".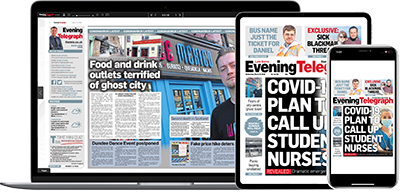 Help support quality local journalism … become a digital subscriber to the Evening Telegraph
Subscribe