Anti-cuts campaigners are swapping Cupid's arrow for warning stanzas this Valentine's Day.
A number of "heartfelt" messages will be delivered to council bosses, demanding a U-turn on plans to make more than £8 million of cuts.
Jayne Kelly, from the Save Our High Street group in Lochee, will present a Valentine's card filled with messages from people making their feelings known.
Dundee City Council announced a series of cuts from its 2019-20 budget, as well as hikes to parking charges, council tax and school meals.
Unions are gearing up for a Valentine's Day-themed protest in City Square today, titled Love Dundee Hate Cuts.
And Jayne hopes to present her card directly to council leader John Alexander.
She said: "We had decided to make a wee Valentine's Day card filled with messages and poems that people had come up with to share how they feel about the budget.
"We're hoping to hand it directly to John Alexander to let the council know how dissatisfied we all are.
"It's people from all backgrounds who have submitted them. I put a call out on Facebook for some suggestions and we got some great responses.
"We've been attending meetings with the unions and people from other communities and we're just hearing the same problems about a lack of consultation and a lack of alternatives."
Budget papers show more than £600,000 will be saved from cuts in neighbourhood services, the chief executive and children and families services departments, through "structure reviews and deletion of vacant posts".
A public meeting was held at Thomson Park last night to discuss how the cuts will impact on residents in Lochee.
Jayne added: "We get angry because the council uses this language like the impact will be minimal. That's not good enough – we need plus signs not negative signs.
"A massive number of people rely on the care and voluntary sector. Their hours and terms and conditions are being cut. We need services and we need them at full capacity because we are in a crisis situation."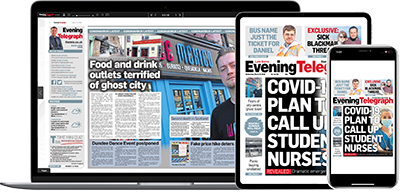 Help support quality local journalism … become a digital subscriber to the Evening Telegraph
For as little as £5.99 a month you can access all of our content, including Premium articles.
Subscribe