It all began in a magazine office in Dundee.
And now Shout – the magazine which has provided a generation of teen girls with their fix of TV, music and fashion – is celebrating its 25th anniversary with a celebration of all things 1990s.
When it first hit the news stands in 1993, its readers were watching Gladiators, Byker Grove and Neighbours, listening to East 17 and 2 Unlimited and wearing combat trousers and halterneck tops.
The young models gracing the pages of some of Shout's earliest issues include top TV presenters Holly Willoughby and Emma Willis, and actress Keeley Hawes.
Since its launch by DC Thomson, an astonishing near-70 million copies have been sold.
The original 1993 magazine cover featured stars including East 17, Take That, Keanu Reeves, "hunks" from Baywatch and Neighbours and the chance to win Beverly Hills 90210 goodies.
Inside, a Topshop fashion spread marked the first time it had added size 8s to its range, while there were reader makeovers and posters, features on bullying, body issues and friendship and a poster featuring lyrics to Take That's Why Can't I Wake Up With You?
Louise Kettle, editor of Shout magazine, said: "It's amazing to see how the '90s fashion trends have well and truly come back – despite us all thinking it was the decade that style forgot.
"High-waisted jeans and bodysuits – who would ever have thought they would have made a comeback? But these days the high street is packed full of '90s throwbacks.
"Celebrating Shout's 25th year has given us all the chance to take that, often cringe-worthy, walk down memory lane. But it turns out we were all style icons of our time. It's been amazing to see all the trends and reminisce about the music we were listening to and the programmes we were watching."
So just what were we all wearing back in 1993?
All Saints, the girl band who formed that very year and are making their comeback in 2018, managed to make combat trousers look edgy yet girly by pairing them with crop tops and halternecks.
Grunge was all the rage with tartan shirts – often worn tied around the waist – loose fit, ripped mom jeans and lots and lots of black proving popular.
Doc Marten boots worn with oversized jumpers, denim shorts and tights, indie bucket hats as made iconic by the likes of The Stone Roses and Oasis, and the rise of chunky trainers – including the rather fabulous Reeboks Pumps where you could actually increase the cushioning around your ankles by inflating them yourself were also on people's shopping lists.
Now in 2018, it's tough being a teenage girl – navigating social media and the pressure of perfection that comes with it, thinking about the future, juggling school work and friendships.
But Shout has embraced this new digital age. Louise added: "Undoubtedly times have changed for teens but Shout has moved with those times and that's why we've had such longevity."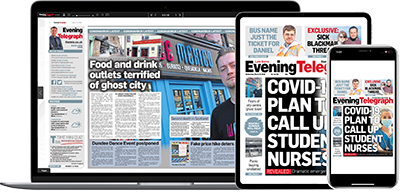 Help support quality local journalism … become a digital subscriber to the Evening Telegraph
Subscribe