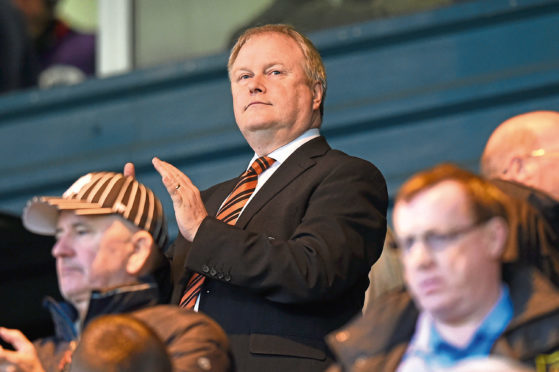 Rumours the long-awaited Dundee United takeover is nearing completion are growing.
So far there has been no statement from either the Tangerines nor the prospective new owners – believed to be American-based businessmen – but it has been suggested a deal to buy the shareholding of chairman Mike Martin has been agreed.
Martin controls just over 43% of the stock and that means new owners would also need at least some of the shares of his fellow director Jim Fyffe who has around 42%.
Their shareholdings were confirmed in a list lodged at Companies House in Edinburgh recently.
There had been speculation new owners would be confirmed last week and although that didn't happen, it does now seem change at the top could be on the way.
It's understood United are set clarify whether or not the deal is going ahead at some point in the next few days.
Talks with the Americans have been ongoing since last year and originally a deal was expected to be done during the summer.
When that didn't happen, former chairman Stephen Thompson sold his majority stake to Martin and Fyffe in a deal that also involved investment from two other United-minded parties who preferred to remain anonymous.
All along, though, Martin has insisted the discussions with the Americans have been progressing, albeit at a slower pace.
Indications are they're now complete and it is simply a matter of satisfying legal requirements before fans find out who will be leading their club for the foreseeable future.