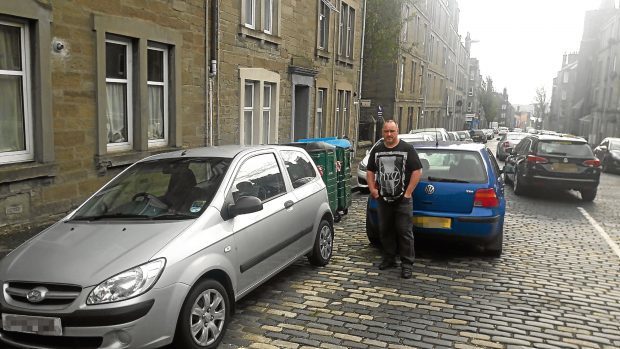 A group of Dundee residents have claimed parking on their street has become a "nightmare".
Locals on Morgan Street said the situation has become so bad they are too scared to move their vehicles for fear of losing their space.
Malcolm Creegan, 47, who has lived on the Stobswell street for more than 11 years, said the problem has increased with the arrival of the controversial Eurobins.
He said: "It has gone beyond a joke now. The Eurobins have only heightened the problem — every fourth space has been taken up by bins.
"When I moved in, we never had problems like this. We are sometimes forced to park away from the street, beside the police station.
"The street has almost turned into a makeshift chicane because there are double-parked cars on either side.
"I know people are exasperated but spaces do become available throughout the day."
Isabella Whyte, 73, has lived on Morgan Street for more than two years and said if the old bin system was returned, then it would help sort out the problem.
She added: "It's actually got to the point where we are almost scared to shift the car, as you'll never get back into space near to your home. There could be an accident as a result of this double-parking. I believe if they returned to the old bin system, it would go some way to resolving the problem."
Graeme Handy, 45, a bus driver, said it can take as long as 20 minutes to find a space.
He explained: "It's like the dodgems on Morgan Street at times. We have, on occasion, ended up parking beside Maryfield Police Station.
"There is no question that the bins have added to the problem but the parking is horrendous."
One resident who wished not to be named said he was "amazed" the traffic wardens hadn't been policing the area. He added: "I do not drive myself but if I did I wouldn't be best pleased with the current predicament."
A Dundee City Council spokeswoman said: "We would always encourage drivers not to park anywhere that could cause an obstruction or a potential hazard to other road users.
"When planning bin locations, we look at ways of minimising the number of car parking spaces that are taken up and, where possible, will review any areas of particular concern."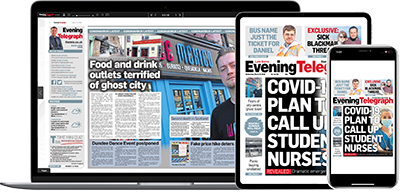 Help support quality local journalism … become a digital subscriber to the Evening Telegraph
For as little as £5.99 a month you can access all of our content, including Premium articles.
Subscribe