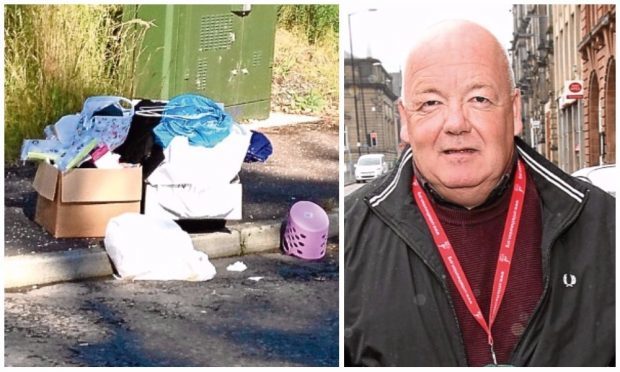 Fed-up residents are calling for action to be taken against flytippers who are dumping rubbish at a quiet residential street in Dundee.
Chris Elder, who lives at Millburn Gardens in Trottick, said the area was a "complete mess", with people leaving boxes and bags of rubbish on the sidewalk.
Mr Elder, a taxi driver, said there had been a problem with flytipping in the past and it has returned.
He added: "We had a problem with flytipping here a couple of years back and we managed to get it sorted out at that time. Residents got local MSP Joe FitzPatrick involved and we got the problem resolved.
"However, the flytippers have been at it again and more rubbish has been dumped. It's a complete eyesore and residents are fed up of it.
"Everyone who lives here is trying really hard to keep the area tidy and presentable and this rubbish lying about doesn't present the right image at all.
"The residents take great pride in Millburn Gardens and this eyesore blights the area. Flytipping is a constant problem on this piece of land."
Mr Elder said the houses at Millburn Gardens are built on the site of the former Trottick multis and added: "There is an area where I think it was planned that further new houses would be built.
"So far, there is nothing on the site and this is where the flytippers are leaving their rubbish — there's no need for it."
Mr Elder said he has asked the city council to contact the landowners to get them to clear the site, adding: "We would also like them to fix the fencing, clear an area that has become overgrown and fix the wall, which has fallen into a state of disrepair. "
Mr FitzPatrick said he had been contacted by Mr Elder and added: "There was an issue here before which I was able to help out with.
"I will investigate the situation again and do what I can to help residents with their concerns."
Dundee City Council declined to comment.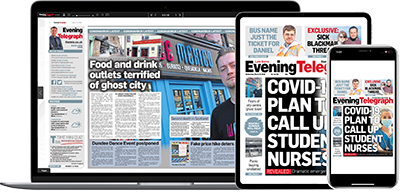 Help support quality local journalism … become a digital subscriber to the Evening Telegraph
For as little as £5.99 a month you can access all of our content, including Premium articles.
Subscribe