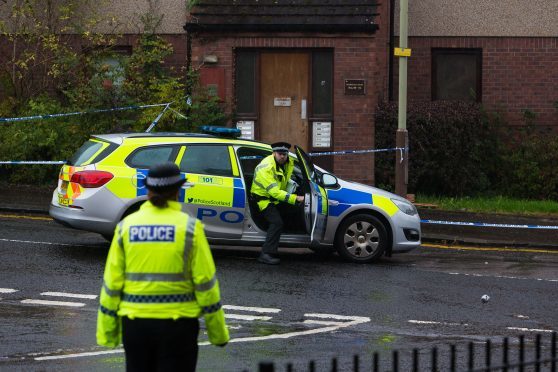 A major police investigation was under way after a man was shot dead with a crossbow in a Dundee street.
Residents told of an "apocalyptic" scene as dozens of police, including firearms officers, descended on Dundonald Court — a block of flats at the corner of Arklay Street and Dundonald Street — late on Sunday night.
A man was taken to Ninewells Hospital with "serious injuries" but later died.
The victim has been named locally as 23-year-old Gordon Diduca, also known as Gordon Adams.
Tele sources said a young man had been detained in connection with the incident, with officers saying they're following a positive line of inquiry.
It's understood a crossbow or bow and arrow-type instrument was used in the attack.
Dundonald Court, and parts of Arklay Street and Dundonald Street, remained taped off for much of Monday as forensics officers inspected the common close and surrounding area.
A bloodstain was visible on the door at the entrance to the block with a police events unit parked nearby.
Michael Taylor, 23, a call centre worker who lives nearby, said: "I heard a couple of really loud bangs.
"That's when I looked out my window and saw that there were police everywhere. Directly outside my house there was a man and he kept shouting that someone had been stabbed or shot with a crossbow.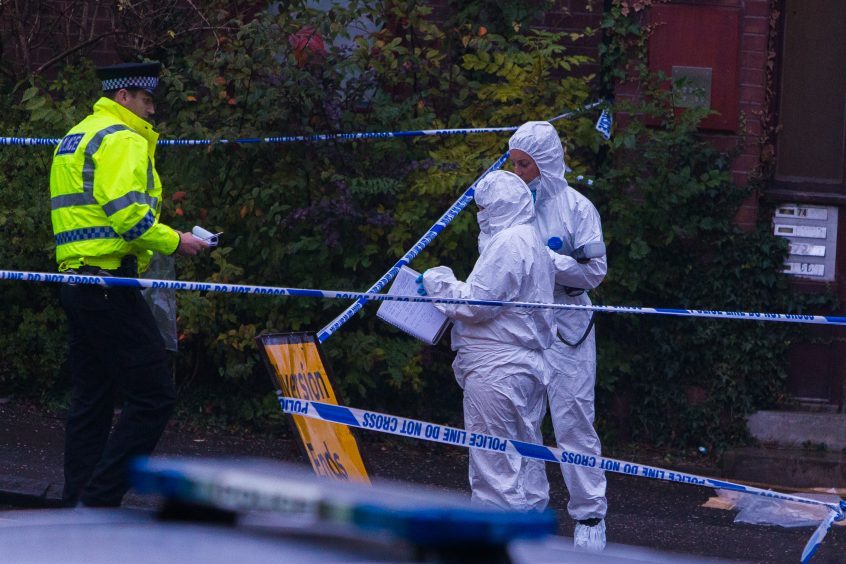 "He was really upset and kept repeating himself.
"His friends were all trying to calm him down but he just kept screaming about it."
One female resident told the Tele she called 999 after hearing a woman shouting "he's got him" or "he's shot him".
She continued: "There were bloodcurdling screams.
"Someone was out in the street shouting for people to call an ambulance saying someone had been shot with a crossbow or something like that.
"I phoned the ambulance and they arrived quickly and brought out a man.
"He was naked and covered in blood on the stretcher — I've never seen someone covered in blood like that and I will never forget that image.
"He looked like he had already passed away but they were working on him in the ambulance for about 45 minutes.
"They arrested a youth, a young looking lad, like a teenager. He was taken away in cuffs. There were family members there really upset because of what had happened.
"Another lad was taken away but he wasn't in cuffs so maybe he was being led away for questioning or something.
"I've been up all night because of the police taking statements and things. I haven't slept.
"It makes me want to move away. It's too much now. The thought of someone with a weapon like that scares me."
Another resident described the scene as "apocalyptic", adding: "There were police everywhere — you would have thought there had been a terror attack."
A spokeswoman for the Scottish Ambulance Service confirmed two units were sent to the scene at 10.50pm along with the trauma team.
She said one man was taken to hospital with "serious injuries" and another was treated at the scene for an arm injury.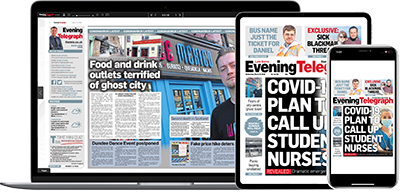 Help support quality local journalism … become a digital subscriber to the Evening Telegraph
For as little as £5.99 a month you can access all of our content, including Premium articles.
Subscribe