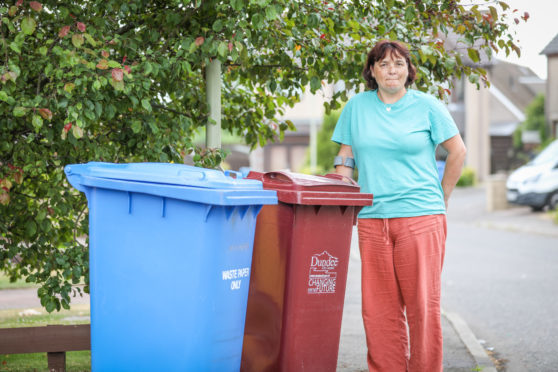 Residents on a Dundee street say dozens of wheelie bins have not been emptied after the council's recent shake-up.
Locals in Fernie Gardens, Barnhill, say their blue and burgundy bins have been left on kerbs for days because of Dundee City Council's new collection rota.
It is claimed scavenging foxes and gulls have caused rubbish to spill out on to the street because of the delays.
The council has been criticised for the new collection system – introduced in April – with scores of residents across the city encountering similar problems.
Fernie Gardens resident Norah Miller, 44, says the problem only started when the new scheme was rolled out.
She said: "We've had these problems ever since the new bin system came in.
"It's the newer bins where we've had the issues.
"It's been the same for the food waste bin but the brown and blue ones just get picked up whenever.
"There's no set date – it's just a case that they turn up when they turn up."
Ms Miller added: "It's been a big problem because we're getting gulls and foxes coming down and getting into the rubbish.
"When we had Storm Henry it was horrendous because someone had left a black bin lying on the street.
"The gulls got into it and then the foxes came and the rubbish went everywhere. It was disgusting.
"It never used to be this way – it's just since the new rota came in.
"It's not nice to see them all piling up, especially during the heat we've been having recently."
Fellow resident Steve Curran, 57, echoed those concerns, saying: "This has been going on for a few months now and there's no sign of it getting any better.
"They're just sitting there and sometimes for days.
"My main concern is the gulls causing an issue. It's time the council got it sorted."
The council has been hit with fierce criticism from fed-up residents in recent months, particularly over the introduction of Eurobins.
Questions were also raised in June after a council supervisor was seen placing uncollected rubbish into the back of a council fleet car in Balgarthno Road.
A spokeswoman for Dundee City Council said: "We are aware of this issue and are taking the appropriate to action to resolve it.
"We would like to take this opportunity to apologise for the inconvenienced caused."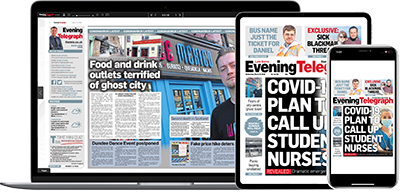 Help support quality local journalism … become a digital subscriber to the Evening Telegraph
Subscribe