Local conservation volunteers are in uproar over a proposal to dig up an area rich in diverse wildlife in order to facilitate the creation of a new waste incinerator.
Volunteers maintaining the Dighty Burn fear that an already signed-off plan to create a Suds pond south of the waterway will have a detrimental effect on the local ecosystem.
The pond is required as part of a new facility that will divert waste from landfill to provide heat and power.
Suds (sustainable drainage system) ponds are often created at major developments to offset the drop in an area's ability to drain water.
However, the patch earmarked for the plan is a particularly fertile breeding ground for invertebrates, insects, birds and plant life, according to campaigners.
Heather Barnes, 31, said: "This area is full of wildlife and it's going to get ruined.
"They're going to have to dig deep and below the level of the water in order to be able to drain it. It's going to affect the ecology of the river itself as well."
Fellow volunteer Michael Summers, 52, added: "The council developed this area and now they're telling these people to rip it up again. It will be sad to see it go."
Ken Slater, 62, said: "It would be nice if anything could be done to divert it somewhere else and protect the wildlife."
The incinerator is being built by German firm MVV, replacing the DERL facility.
Paul Carey, managing director of the new facility, sought to reassure the group that protecting both the local and wider ecology was at the heart of the project.
"This has all been consulted on with Dundee City Council and groups such as Dighty Connect, and planning permission has been granted," he said.
"None of our work will be done during the nesting season and we will be planting trees to replace the ones we cut down to maintain the same number overall. We're all in favour of sustainability and the environment."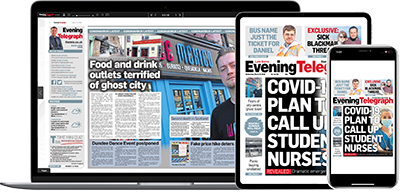 Help support quality local journalism … become a digital subscriber to the Evening Telegraph
Subscribe