A local musician graced the stage at two of Britain's biggest and most iconic music festivals – Reading and Leeds.
Keyboards and guitar player Anne Williamson, 32, was on the same bill as bands such as Kings of Leon, Courteeners and The Vaccines. She played at Reading on Friday night and Leeds on Saturday.
Now based in Los Angeles, she is playing in a band fronted by American musician, singer-songwriter and producer Maggie Rogers, which has been supporting American group Haim on their UK tour.
The band is named after Maggie, and one of its gigs was at Alexandra Palace in London where 10,000 fans turned up.
Anne was ecstatic to be playing at Reading and Leeds.
She said: "To be performing at these two major festivals is amazing.
"They are two of the biggest festivals on the go and to play in front of thousands is just great.
"It's truly a huge thrill and it will certainly be among the highlights of my musical career.
"I'm fortunate to have played at a number of big concerts and in front of lots of people.
"Little did I realise growing up in Perth that one day I would be playing Reading and Leeds."
Maggie rose to fame after her song Alaska was played to widely-acclaimed American singer and songwriter Pharrell Williams during a masterclass at New York University.
Anne said: "It's a great privilege to play in front of large crowds, and Pharrell is a fan of Maggie's.
"He was so moved by one of her songs that he cried."
The Perth woman also plays in the Los Angeles-based band Lord Huron, which mixes folk with indie pop.
She said: "I have played a lot of the American festivals as part of Maggie's band and we also performed at the Governor's Ball in New York.
"During our time in Britain we are also performing on BBC Radio 2's drivetime show on Tuesday."
Anne, a member of the Church of the Nazarene in Perth where she was an accomplished performer in local musical competitions, added: "I managed to get back home for a few days to see my folks before getting back on the road again."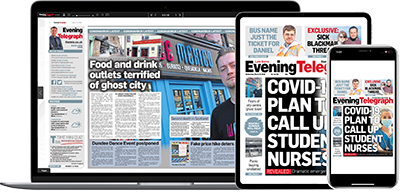 Help support quality local journalism … become a digital subscriber to the Evening Telegraph
Subscribe