A Carnoustie man who dressed up a model skeleton as Gareth Southgate after England's elimination from the World Cup has been told he will no longer face breach of the peace charges.
Kenneth Whyte, 57, put the skeleton on the roof of his Barry Road home ahead of this year's Open Championship.
He put a waistcoat on the dummy after England lost 2-0 to Belgium in the third place play-off alongside signs saying "The Gareth South-gate exit!" and "Advice to our English friends, please remember the route when you are coming home again!".
Police confiscated the skeleton before Mr Whyte was formally charged with breach of the peace.
However, he has now been told the charges have been dropped and is demanding the return of his skeleton.
The Crown Office confirmed charges have been dropped.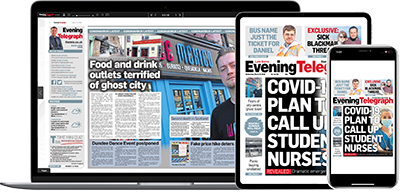 Help support quality local journalism … become a digital subscriber to the Evening Telegraph
For as little as £5.99 a month you can access all of our content, including Premium articles.
Subscribe