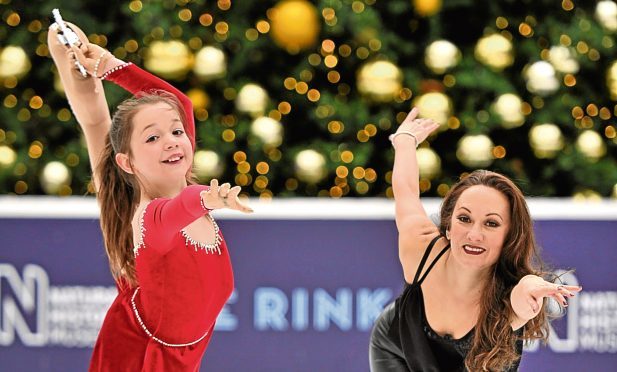 A figure skater who battled cancer as a baby has had the chance to perform with one of her heroes.
Georgia Hillman, 10, of Monifieth, skated on the Natural History Museum Ice Rink in London with former Dancing on Ice star Frankie Seaman.
Georgia showed Frankie how far she has come since being diagnosed with the disease just before her first birthday.
The experience was organised to mark the launch of this year's Cancer Research UK Kids & Teens Star Awards, which celebrate the courage shown by children and young people who have been affected by cancer.
Georgia previously won one of the awards after being diagnosed with Wilms' tumour, a type of kidney cancer, just before her first birthday.
Scans showed that the tumour in Georgia's stomach was the size of a football.
After she had chemotherapy, the tumour shrank rapidly, which allowed doctors to operate and she's now doing well. Georgia is a successful figure skater, competing at a national level.
She described meeting her hero as "magical" and added: "It made me even more excited for Christmas. Frankie's moves were amazing and one day I hope I will be as good as her. Receiving a Star Award inspired me. I look back at what I've been through and it's only made me stronger and more determined."
Her mum, Ruth, 41, said: "Hearing that my baby had cancer was something I never expected.
"It was the most terrifying few years of our lives, but we got through it and she has gone from strength to strength ever since.
"Ice skating is a huge passion for Georgia — she puts her all into it. It's a hobby that lets her run free, which is amazing after everything she's been through.
"Watching her perform with Frankie at the Natural History Museum Ice Rink is a memory I'll never forget."
British figure skating champion Frankie said: "Georgia is amazing.
"She's so talented and it has been a breath of fresh air skating with her.
"She went through so much at such a young age but hasn't let that stop her following her dream of becoming such an amazing skater.
"It was an honour to meet her — she gets a 10 out of 10 from me."
To find out more about the awards, visit cruk.org/kidsandteens.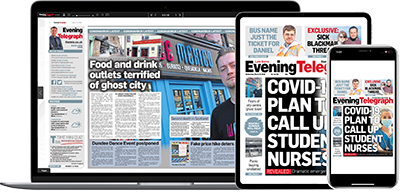 Help support quality local journalism … become a digital subscriber to the Evening Telegraph
Subscribe