A local foodbank is thriving, thanks to the generosity of local supporters.
The team at Perth and Kinross Foodbank feared the worst earlier this year when a raft of benefit changes were introduced.
However, while similar groups around the country have reported a surge in pressure on their services as more families seek help, the Perth scheme has managed to keep a large stock of food, even in the run-up to the busy festive season.
Bosses say this has been thanks to a steady supply of donations given by schools, organisations and families.
Project co-ordinator Eleanor Kelleher said: "Perth Foodbank is very lucky. We have lots of generous people giving us both food and money and we also have lots of loyal and dedicated volunteers, so I'm so grateful to them.
"Some of the other foodbanks in Scotland are struggling – they are constantly running out of food and volunteers to help them and always looking for money.
"Last year we had no money but we got funding from the council which has been an absolute life-saver.
"We are still needed, which is the unfortunate side. I would rather we weren't needed at all but that's not going to happen any time soon."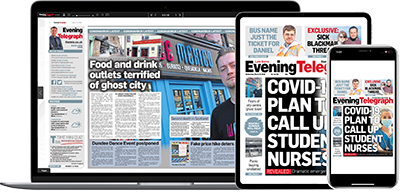 Help support quality local journalism … become a digital subscriber to the Evening Telegraph
For as little as £5.99 a month you can access all of our content, including Premium articles.
Subscribe