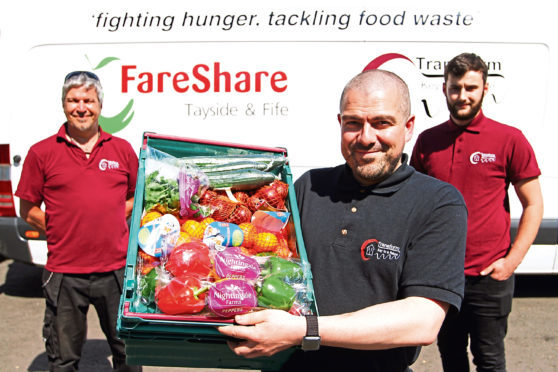 A local charity helping people struggling with food poverty has more than doubled the amount it donates to good causes in just two years.
FareShare Tayside and Fife redistributes food to more than 90 community projects in the region.
The team delivers from local and national suppliers, helping to address both food poverty and waste.
Between April 2017 and this year, 211 tons of goods were distributed by the organisation, up from 176 tons in 2016.
However, Chris Doig, regional organiser for FareShare Tayside and Fife, said — based on current projections — the organisation will donate a "staggering" 380 tons in one year, by next April.
Between April last year and 2018, enough food for 435,309 meals was donated, which enabled the charity sector to make £687,300 in savings, and support about 7,554 people a week.
Chris, who has been involved with the charity for five years, said: "At the moment, we are shipping 25-30 tons per month, compared to last year's monthly average of 17.5 tons.
"It's certainly the largest increase, year-on-year, that I've ever seen. Part of that is down to us expanding all the time, and always having new beneficiaries coming on board, but it's still a staggering amount.
"We supply to all sorts of third-sector organisations — a lot of the hostels, for example. I think, in terms of food poverty, things are going to get worse before they get better."
The figures were announced on World Hunger Day yesterday.
Started in 2011, the day aims to celebrate sustainable solutions to hunger and poverty.
FareShare Dundee, in Douglas Street, is the base of the service for the whole of Tayside and Fife.
Staff collect and receive surplus quality food, including fresh fruit, vegetables, meat and dairy products, from suppliers and retailers.
The food, which would otherwise end up in landfill, is "fit for purpose" but surplus due to packaging errors, overproduction or because it is approaching the end of its shelf life.
FareShare redistributes the supplies, free of charge, to community organisations for disadvantaged groups of people.
One organisation which receives support is the community cafe at the Tayside Deaf Hub, based in Dundee's Brown Street. The cafe is open Monday to Saturday, with one full-time member of staff and a group of volunteers.
Alana Harper, the chief executive of the Tayside Deaf Hub, said: "We've received food from FareShare since 2012. It's a great service — what they provide is extremely valuable.
"We're a social enterprise, so it's vital we keep our costs down.
"The cafe is open to all. There's always someone here who knows British Sign Language, which makes it welcoming for the deaf community.
"What I think we are seeing is more people in food poverty who are still working.
"People who are on low incomes, zero-hour contracts, they are struggling, too.
"And I think more people are struggling with the change in benefits to Universal Credit."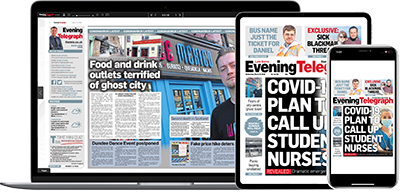 Help support quality local journalism … become a digital subscriber to the Evening Telegraph
Subscribe