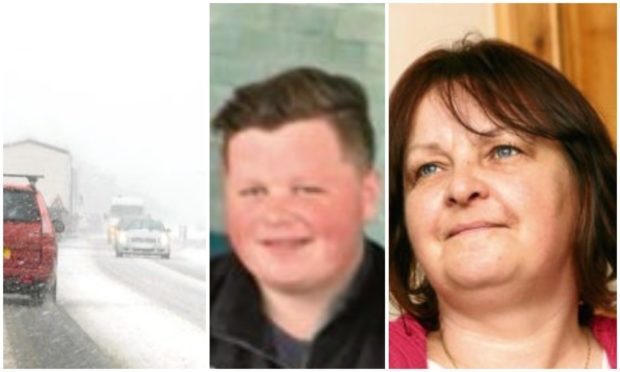 A young Tayside chef made a life or death dash through heavy snow to reach his mum because of a "hunch" that she was in trouble.
And Jamesy McLaren's gut feeling proved to be a life-saver for mum Dawn, who had fallen into a diabetic coma at her home.
Dawn McLaren, 48, told the Tele she would be eternally grateful to Jamesy, 23, for acting on his instincts and saving her life.
She said: If he hadn't got to me when he did, I dread to think what might have happened.
"I might not be here today to tell the tale. I believe my son saved my life."
Dawn said she wanted to use her brush with death to highlight the dangers of diabetes.
She said: "This is a horrible illness. It's so important that friends and family of diabetics know exactly what to do in these circumstances.
"I want to urge people to make sure they know how to deal with it."
Dawn, who was born in Dundee and now lives in Bridge of Earn, was diagnosed with type 1 diabetes when she was aged 11.
She said: "I have always been able to deal with it but every now and again if I become unwell with something else, the diabetes can be really bad.
"During the week of the really bad snow, I was at home when I had a bug and felt very unwell.
"I went to bed on the Tuesday afternoon. The next thing I knew it was more than a day later and I was in hospital.
"I ended up in Perth Royal Infirmary for more than a week after that.
"I don't have any great recollection of exactly what happened but all I know is that Jamesy left his work and battled his way through the snow to get to my side because he truly believed something was wrong with me.
"That's the best decision he ever made."
Jamesy said that he usually phoned his mum every day after he finished work at 4pm.
He said: "On the day I phoned and didn't get a response.
"To start with I wasn't overly concerned.
"I knew that because of mum's illness she sometimes needed a nap in the afternoon.
"However, as the evening wore on and after repeated calls with no response, I started to become more concerned.
"Other family members tried to contact her as well without success."
Jamesy said that by Wednesday afternoon he was becoming really worried.
He said: "I decided I had to drive up from Crieff to Bridge of Earn because I just felt that something definitely wasn't right.
"The weather was dreadful with really heavy snow and the roads were awful but I knew I had to go.
"I left work early and set off. The journey normally takes half-an-hour but because of the weather it took me an hour to get there.
"When I arrived, I found mum upstairs in her bedroom.
"She was in a real state. She was just conscious at that point, but she had been unconscious and was very confused.
"She had also been sick and was freezing cold. Although her mobile phone was in her bedroom when she came round, she was far too weak to get to it.
"I took her blood sugar reading and realised it was very low. I called the ambulance and the paramedics came and got mum to hospital."
Jamesy said he was glad he knew what to do when he found his mum.
"I have watched her over the years test her blood sugar and I knew what to do," he added.
"That is something I would recommend to anyone who has a loved one or a friend with diabetes.
"It could help save their life."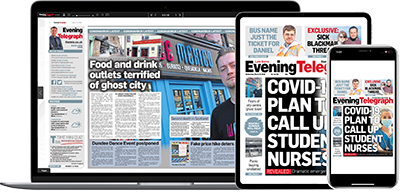 Help support quality local journalism … become a digital subscriber to the Evening Telegraph
For as little as £5.99 a month you can access all of our content, including Premium articles.
Subscribe