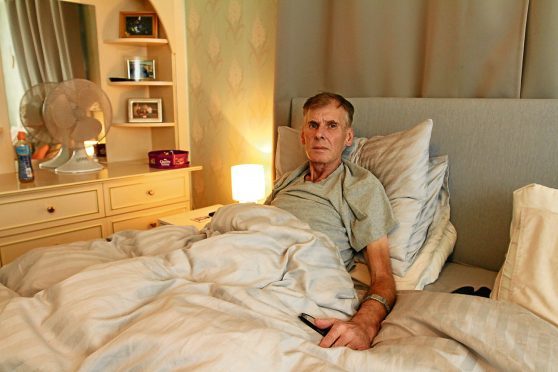 A man who was told by doctors last week he had months to live has lost his battle with pancreatic cancer.
James McKay, 54, of Newport, died at Ninewells Hospital after a haemorrhage in his intestines caused by complications of his cancer.
His death came just three days after he told his story in the Tele.
Originally from Whitfield, Mr McKay spoke about the two-and-a-half year battle he had with doctors to discover what was wrong with him.
The Dundee FC fan was initially diagnosed with pancreatic cancer on August 21 this year and was told last week he had months to live.
His son, also called James, 28, said today that his dad had fought "bravely" before he died.
He said: "My dad got up in the morning and had become increasingly breathless.
"He was admitted to hospital at 7am — he was haemorrhaging in his intestines and was bleeding internally.
"I went up to the hospital around 10.30am and I didn't recognise him. He battled bravely but died peacefully."
James Snr spoke out about having approached doctors in March 2015 complaining of stomach pains.
He was eventually diagnosed with acute pancreatitis in April last year.
Despite being in constant pain, he said doctors didn't take any notice of his claims until he developed jaundice in August and doctors discovered a four-centimetre tumour in his pancreas.
His son added: "I can't speak highly enough of the treatment my dad received from the staff at Ninewells on Wednesday.
"Prior to that, the treatment he had received was nothing short of a disgrace.
"My dad decided to speak out because of his treatment over the last two-and-a-half years as he didn't want anyone to go through what he'd been through.
"He had just been speaking about how much he was looking forward to Christmas and was determined to get chemotherapy in January."
There was an announcement prior to Dundee's match against Partick Thistle at Dens Park on Saturday in memory of James, who had been a season ticket holder in the Bobby Cox Stand since the late 1990s.
Dundee man, 54, has months to live after being given 'countless reassurances that it wasn't cancer'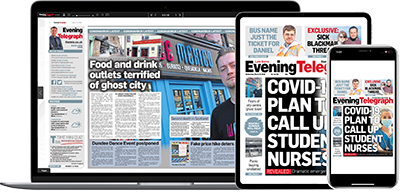 Help support quality local journalism … become a digital subscriber to the Evening Telegraph
For as little as £5.99 a month you can access all of our content, including Premium articles.
Subscribe