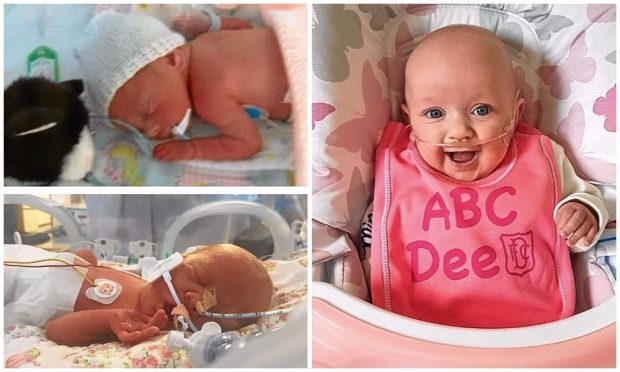 A Tayside woman has spoken of her premature daughter's struggle to survive.
Sarah Clark's daughter Skye arrived in February — 10 weeks early.
Problems with Skye's lungs meant she struggled to breathe on her own and required lengthy stays in Ninewells and the Royal Hospital for Children in Glasgow.
Sarah, 34, who lives with partner Matthew Curtis, a dental technician for NHS Tayside, and her older daughter Chloe, said: "Skye's lungs were very, very underdeveloped and she required full support to breathe which was done with a ventilator.
"Skye had several failed attempts at extubation. That's when they remove the breathing tube and put her on a less-invasive form of breathing machine, which keeps the lungs inflated with pressure, but she does all the work.
"On two occasions Skye arrested and required emergency CPR — we nearly lost her.
"The Ninewells Neonatal Team will always be so special to me — they saved her life. On March 8, at five weeks old, Skye was ventilated again to give her a rest.
"It was a very difficult procedure as there was a blockage and Skye arrested. The team of 23 staff fought for two hours to keep Skye alive."
After the procedure, Skye was rushed to the Royal Hospital for Sick Children in Glasgow, 90 miles away from the family home in Scone.
It was discovered there that she had tracheomalacia — a floppy windpipe — due to her prematurity.
Skye was given time to grow and rest before successfully managing to breathe on her own again.
Sarah, a former nurse at Ninewells who now works for Aviva, said: "At the Royal Hospital for Children Neonatal Unit, one of the nurses told me about a video application. They would record video updates of Skye and send them to my phone when I couldn't be in the unit.
"The videos helped to reduce my anxiety, especially when I needed to go home to spend time with my other daughter, Chloe, eight.
"It was peace of mind knowing the nurses would capture any moments that were special on video. We were the second family to have the privilege of using video updates, so that made it extra special."
Skye was eventually well enough to go home on her original due date, May 15. The move required a lot of work as the tot is hooked up to an oxygen supply at home.
Sarah said: "We never thought it would happen, it was the best day. We never told anyone she was getting home and surprised Chloe and the grandparents. There were a lot of tears that day.
"She is doing really well — she's a Ninewells miracle.
"When a consultant turns to you and honestly admits they didn't think they were going to get her back to life, that's when you realise how lucky you are."
Sarah, who grew up in Invergowrie, has raised money for the Ninewells Neonatal Team.
Along with her father, Ken, she took part in the "Mighty Stride" Dundee Kiltwalk last Sunday to raise funds.
Sarah and 'Granda Ken' managed to raise more than £2,000, which will go towards bringing video messaging to the neonatal unit.
Sarah added: "Knowing how important the videos were to us, I wanted to raise funds to help bring the same video link that was available at Glasgow to Ninewells, so parents of premature babies could see videos of their children too.
"Nurses need tablets to make the videos so I hope the money Dad and I raised on Sunday helps to buy them for the unit."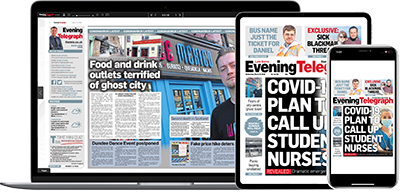 Help support quality local journalism … become a digital subscriber to the Evening Telegraph
For as little as £5.99 a month you can access all of our content, including Premium articles.
Subscribe