A woman who was attacked by a convicted murderer on day release from prison says she wants to expose the failings that led to her nearly being killed.
Linda McDonald, 53, was beaten with a dumbell by Robbie McIntosh in Templeton Woods in August 2017.
McIntosh was jailed for life with a minimum of 15 years in 2002 for the brutal knife murder of dog walker Anne Nicoll on Dundee Law, and was preparing for release before he attacked Linda.
Now a significant case review (SCR) into the circumstances that led to McIntosh attacking her is expected to be published later this year by Kathryn Lindsay, chief social worker for Angus.
Linda, who has been involved in the investigation, said the report will conclude that her attack "couldn't have been predicted but it should have been prevented".
Speaking to the Tele, Linda said: "I now want the full findings published and I want nothing left unreported or unpublished.
"There have been failings and I want them brought out in the open."
Linda, who is now back at work as a secretary with the NHS, said she believed McIntosh should never have been released.
She said: "Life should mean life. It's wrong that he was allowed out to do this to me.
"I will spend the rest of my life making sure he is never released again to do this to anyone else.
"What happened to me couldn't have been predicted but it should have been prevented. Nobody listened to the people who said that he would do this again.
"I'm doing this for Anne Nicoll and her family. It is so important that this is never forgotten about."
An Angus Council spokesman said: "A Significant Case Review is currently being carried out which will consider the circumstances of McIntosh's offence with a view to identifying and learning any necessary improvements to public protection arrangements."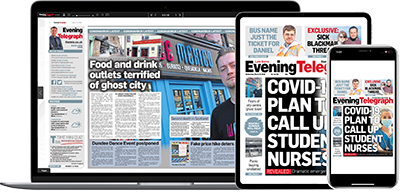 Help support quality local journalism … become a digital subscriber to the Evening Telegraph
Subscribe