The Liberal Democrats in Dundee say slashing spending on office furniture, travel allowances and consultancy fees could help prevent proposed cuts to public services.
The party published alternative budget proposals ahead of this week's council vote – the only opposition group to do so to date.
The SNP administration laid out its spending plans last week, which included £8 million worth of cuts.
Proposals included a reduction in council staffing costs, scrapping principal teaching roles and increasing parking charges.
The Lib Dems' budget proposes halving planned cuts to education by about £1m and scrapping rises in car parking and burial charges proposed by the SNP-led administration.
Councillors Fraser Macpherson and Craig Duncan also propose ditching SNP proposals including a 3% rise in council tax and the introduction of a £35 brown bin fee.
The councillors insist their plans would still cut spending for 2019-20 by £8m and have been "fully costed" by council officers.
Mr Macpherson said: "The level of savings remains the same as the administration's budget but we have found other ways of doing it to protect services such as education."
To balance out their proposed £1.8m of extra spending, the Lib Dems suggest reducing budgets for equipment and furniture, car and travel allowances and professional consultancy spending.
A recent Tele investigation found the council has spent £630,000 on consultancy in the last three years.
The Lib Dem councillors are the only opposition group to put forward an alternative to the administration's budget, which will be put to a vote at Thursday's special budget meeting.
However, the Tele understands Labour is poised to release its own proposals ahead of the meeting on Thursday, having previously threatened not to do so in protest over the administration ignoring previous proposals.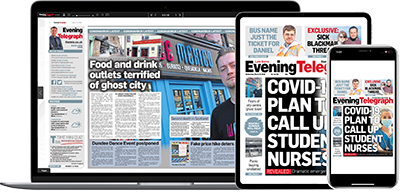 Help support quality local journalism … become a digital subscriber to the Evening Telegraph
Subscribe