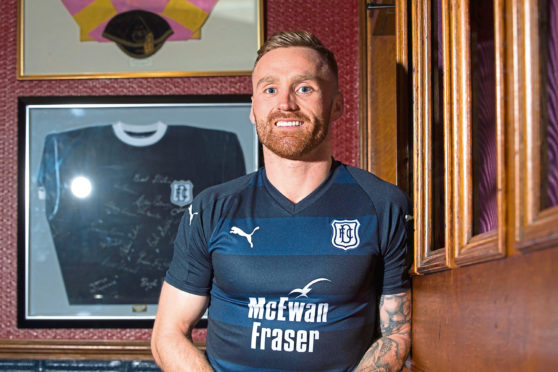 "If I wanted to sit comfortable, I could have sat over the road but I didn't want to do that," said Craig Curran as he insisted his move to Dundee from Dundee United was a no-brainer.
The former Ross County forward joined up with his old gaffer Jim McIntyre at Dens Park last weekend as the two plot a way out of relegation trouble for the Dark Blues.
In crossing Sandeman Street, Curran joined a small band of players to have swapped one city side for the other.
However, when he heard about the chance to move back up to the Premiership and play for his former boss once more, there was only one place he was going.
Curran said: "The move happened quite quick but it was a no-brainer to come back and work with Jim.
"There will be a couple of tough months ahead of us but if I didn't think we could do it I wouldn't be here. The chance to come and play for Jim again was too good to turn down.
"I know what he expects, he knows what I bring and the standards expected.
"It was easy to slip straight into what he wants to do.
"If I wanted to sit comfortable, I could have sat over the road but I didn't want to do that.
"If I didn't think it was possible to stay up, I wouldn't be here and I'm more than confident we've got enough to get out of trouble."
The 29-year-old joins Dundee two points behind 11th-placed St Mirren and four off Hamilton a place further ahead.
However, back in 2015 he joined Ross County in a worse spot and helped them get to safety.
He said: "We were about 11 points adrift at the bottom of the league.
"It was a great run we went on but it starts with a game at a time, picking points up one by one, and it comes with a real hunger and appetite and real graft to get out of it. It won't be pretty at times, I think everyone knows that, we've got to dig in and work as hard as we can.
"Myself and Jim know what's required to get out of this situation.
"I think there is a lot of quality here, a lot of good players and good lads as well that are up for the fight and we are looking forward to sinking our teeth into it."
And from what he's seen of the Dark Blues this campaign, Curran insists there's enough quality in the ranks to repeat the Ross County feat.
"I've seen Dundee this season and, like I said, there are some really good players here," he added.
"There's loads with experience looking at the careers of Kenny Miller and big Darren O'Dea, Martin Woods down south and boys like Paul McGowan who's been around this league for years, I could go through a few of the lads. You add that to the young lads and the energy we have and everyone's up for the fight.
"It's not going to be pretty. I think we'd be kidding ourselves if we felt it was going to be.
"It won't be plain sailing either. There will be a few bumps and we are going to need strong characters.
"We're going to need to be mentally tough and you only have to look at the experience of the guys within the squad and the level they've played at they'll know we have to fight for it."
There won't be any worrying about how St Mirren and Hamilton get on, however.
"We are looking at no one, bar us. That's the way it has to be. If we start looking at everyone else and what they're doing then you get sidetracked from the job at hand.
"We've got to fight and claw our way up so we'll just be concentrating on what we're doing."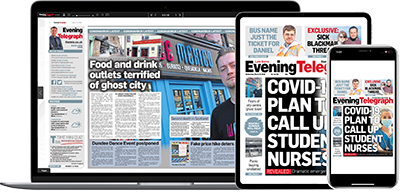 Help support quality local journalism … become a digital subscriber to the Evening Telegraph
Subscribe