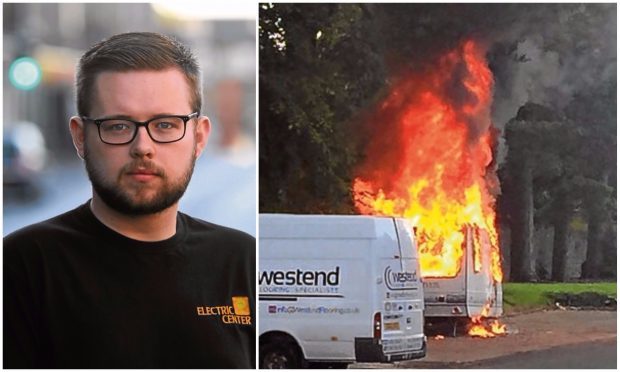 A learner driver has told of the "terrifying moment" he had to swerve past two oncoming vehicles before encountering an "exploding caravan" on a driving lesson.
Daniel Chalmers, 20, from Kirkton, encountered the extraordinary set of events while out on a driving lesson in the city's Dunsinane Industrial Estate.
The warehouse operative said the incident happened just after 6pm on Tuesday just as he turned on to Broomhill Road.
Daniel, who is learning to drive with BSM, said two vehicles were driving side-by-side as he made his way up Broomhill Road before he was forced to swerve on to Carlunie Road.
Speaking to the Tele, he said a silver Volvo and a black car were moving at "treble" the speed he was before leaving the estate.
He said: "I am still recovering from the terrifying moment of having to react to the situation of avoiding those two cars — I'm not that an experienced driver.
"I was driving along Broomhill Road at 15mph and they must have been doing treble that speed.
"They were tearing around that bend.
"I drove on to Kilspindie Road seconds later and we noticed flames pouring out of a caravan which had been stationed near to a pet food store.
"As soon as we saw the flames we pulled over and contacted the fires service – there were huge explosions coming from the caravan."
Daniel said another witness then approached him and his instructor.
He added: "It happened opposite a pet food store and this guy said one of the occupants had been going a bit mental — freaking out — before getting back in the black car and then encountering us.
"Two fire engines arrived on the scene. The flames were getting higher and higher when they arrived — I've been on a few lessons but I certainly won't forget that in a hurry."
A spokeswoman for Tayside Fire and Rescue said: "We received a call at 6.11pm of reports of a caravan on fire on Kilspindie Road.
"Two appliances attended from Macalpine Road fire station. They left the scene at 6.33pm."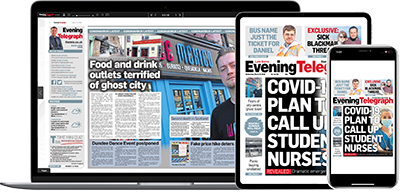 Help support quality local journalism … become a digital subscriber to the Evening Telegraph
Subscribe