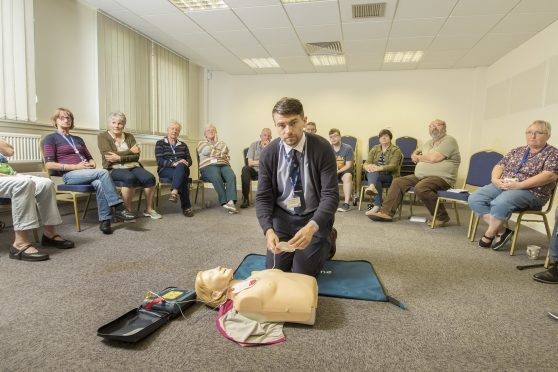 As part of the Tele's Learn to be a Lifesaver campaign, reporter James Simpson took part in a first aid training session to find out exactly what's involved in learning life-saving techniques.
I've never had any basic lifesaving training — and with the launch of the Learn to be a Lifesaver campaign, I thought there was no better time to start.
The class at Angus Carers Centre was being taken by volunteers from First Responders and Heartstart Discovery.
Thanks to the classes, more than 500 folk have been taught lifesaving techniques.
I knew I was in safe hands as they talked us through the fundamental basics — but I was unsure how quickly I would pick up the vital skills.
The recovery position was something I'd heard of, but apart from knowing to place a casualty on their side, I was largely clueless.
We were told that in any major incident, the first thing we needed to do was to make sure that we were OK and that the area was safe before we gave any medical attention.
We were also advised to check if the casualty was unresponsive and, if so, to call for help before establishing if they were breathing — as they could be choking on their tongue.
I placed my left hand on to the casualty's forehead before tilting the chin up with two fingers from my right hand and pushing the head back to open the airway.
By checking the airway for 10 seconds, I was able to establish if my "patient" was breathing. Fortunately, I had a response and placed them back into the recovery position.
I was told that the process is referred to as head, tuck, chin, lift, before moving them to ensure they weren't going to choke on their tongue before I went for help.
Our next assignment was CPR — and we replaced our human partners with the famous CPR Annie doll.
I gave Annie 30 chest compressions and two rescue breaths — this exercise was to be repeated before emergency services arrived.
I was amazed how physically demanding this process became within a matter of minutes. We were finally shown how to use a defibrillator kit.
This lifesaving piece of equipment advises you whether to administer CPR training.
You place the electrode pads on the victim's chest and it analyses the heart rate — and tells you to stand clear before it administers an electric charge.
After the session, I felt like I would be a lot more confident in dealing with a crisis.
It was easy to learn basic l ifesaving techniques which could make all the difference — and it only took a couple of hours.
Inspired by the heroics of Dundee postie Nicola Johnson, the Tele's Learn to be a Lifesaver campaign aims to encourage as many people as possible to undergo basic first aid training by signing up to one of the many courses on offer.
First aid courses can be booked through a variety of organisations:
Heartstart Discovery: 01382 740400
British Red Cross: 0845 564 8835
Community First Responders Carnoustie: 07515 109 382
Leisure & Culture Dundee: 01382 432320
Save a Life Scotland: www.savealife.scot