Dundee City Council leader John Alexander has responded to calls to abolish the shower service charge.
Mr Alexander said: "The choice to remove the charge is not the council's, it is the tenants.
"In this year's rent consultation, there were three options for tenants to consider.
"Options two and three both indicated the phasing out of the charge and its ultimate removal.
"Unfortunately, out of the 2,282 tenants who responded – more than 15% of the tenants – the majority did not support these options.
"My colleagues and I have been crystal clear for months, even years, that we want to see the charge removed entirely.
"But it isn't our decision, it's tenants.
"It was a voluntary scheme from 2007 to 2011 and was the choice of the tenant at that time.
"It's important to emphasise that those with health issues can apply for showers through occupational therapy services without this charge.
"It applies to tenants generally, not to the elderly and those with disabilities.
"Council housing is fully funded from rents and charges – it can't be subsided by council tax.
"Therefore, to remove the charge we either need to reduce costs such as staff by £500,000 or increase income by increasing rents.
"We legally must balance that budget." Speaking at a meeting of the council's policy and resources committee, director of neighbourhood services Elaine Zwirlein said the original agreement meant the charge would be in place for the "lifetime of the tenancy", but at some point in 2011 this was changed to the "lifetime of the building".
TELE CAMPAIGN: This is why we need to axe Dundee's shower tax
This meant some residents had to take on the charge when moving into a new address, even if they did not need to pay the charge in the previous one.
An option to phase it out over five years — at a cost of £118,000 — was put forward as part of the rent consultation, but it did not find favour with tenants.
Councillors agreed with tenants' wishes for a 3.75% increase to rent, rather than a 4% increase, which would have meant the charge could have been dropped.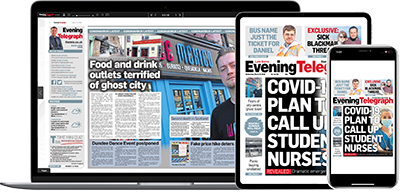 Help support quality local journalism … become a digital subscriber to the Evening Telegraph
Subscribe