Lawyers acting for two men who stabbed a Dundee dad to death are exploring a legal technicality in a bid to clear their names.
Murray Fotheringham, 36, and Lee Winters, 37, plunged a blade into 26-year-old John Donachy at least 13 times – as well as striking him with a baseball bat – during their attack in Alyth in March last year.
Jurors at the High Court in Edinburgh found the pair guilty of murder just before Christmas.
Fotheringham and Winters were sentenced to life in prison by judge Lord Beckett.
But the pair have now instructed lawyers to appeal against the court's decision.
Fotheringham will appeal his conviction and sentence while Winters is appealing his conviction.
Solicitor George Donnelly, who is representing Winters, said his appeal is based on the judge's charge to the jury – the instructions concerning the law that apply to the facts of the case.
He said: "It's a very technical legal matter based on the judge's charge – that's as much as we can say right now.
"The defence team is looking at a technical issue that arose during the course of the trial."
One of the blows suffered by Mr Donachy, who was originally from the Hilltown, was so severe it caused three separate wounds – piercing his arm and chest cavity.
He was murdered at Winters' home on Hazel Court following an argument, after the three men had been drinking.
The court heard Fotheringham made a series of incriminating statements following Mr Donachy's death.
Hours later, he was heard saying: "I just stabbed **** out of someone."
When police detained him he said: "Everybody ***** up sometimes", "I'm handing myself in… the whole weekend is a blur", and "Some people are so cheeky."
The pair maintained their innocence throughout the trial.
Lord Beckett ordered Fotheringham to serve at least 19 years in prison and sentenced Winters to 16 years.
He told the pair: "You armed yourselves with weapons including at least one knife and a bat – probably a baseball bat – and set about Mr Donachy who was intoxicated and had no chance of defending himself.
"Most of the significant injuries were clustered around the upper left side of the torso which strongly suggests an intention to kill."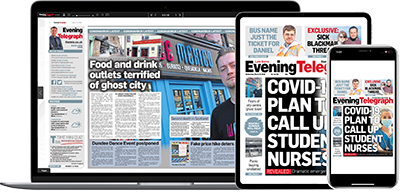 Help support quality local journalism … become a digital subscriber to the Evening Telegraph
For as little as £5.99 a month you can access all of our content, including Premium articles.
Subscribe