Land earmarked for a new stadium for Dundee FC has become a dumping ground for fly-tippers.
Furniture, glass and rotten food is strewn around the site behind Dundee Ice Arena.
Residents living near the land say the area should be cleaned up.
John McNaughton, 74, has previously raised concerns about fly-tippers.
He said: "I have noticed it up at the ice arena. It's not any worse than it was last May but the rubbish has not been lifted.
"I think it is a sad situation that in this day and age people have no respect in terms of keeping the streets clean and tidy.
"It is private property. They should send a couple of guys up to tidy the place and make it a little bit more presentable.
"It's right next to the car park, mostly out of sight round the back.
"It could be dangerous because you don't know what is there.
"Young kids who are kicking a ball about don't know what they are stepping on and dogs will go sniffing."
Items abandoned at the site include doors, an old mattress, broken bottles, rotten food and a chest of drawers.
Lochee councillor Alan Ross said: "Fly-tipping is just not acceptable at all."
He said his message to anyone who has rubbish to dump is to take it to the council-provided areas.
"It's a nice area where people take their dogs," he added.
"We want our city to be presentable and nice."
Site owner Dundee FC plans to build a new multi-million-pound 15,000-seat stadium, including a training centre and four pitches.
The plans also include commercial accommodation and an extension to the ice rink with a new curling arena.
The club was asked to comment but had not responded at the time of going to press.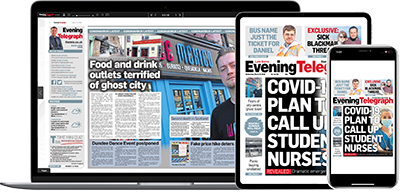 Help support quality local journalism … become a digital subscriber to the Evening Telegraph
For as little as £5.99 a month you can access all of our content, including Premium articles.
Subscribe