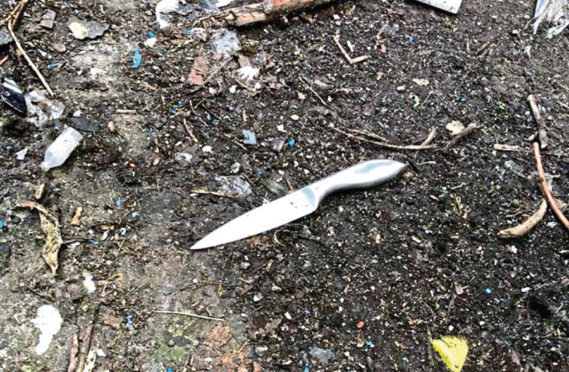 A knife, syringes and drugs paraphernalia have been found dumped in a "disgraceful" city close.
Residents in Lochee were shocked after finding piles of mess both inside and out at a building on High Street.
As well as the discovery of the blade and evidence of drug use, fears were raised about perspex resembling a "guillotine" hanging over a hallway.
It is claimed a disused property in the building – said to be a hotspot for drugs misuse – is causing headaches for residents.
Jayne Kelly, from community campaign group Save Our High Street, was alerted to the situation while filming a TV interview.
She said: "It's absolutely disgraceful.
"I honestly felt like crying after seeing it and how people have to live around there.
"There are bairns living there too and there's a property that is clearly used by people just going in and out of it.
"The place is a health hazard. There's perspex that basically hangs over a part of the close like a guillotine."
Images show a silver blade lying discarded on the ground as well as plastic syringes and a metal spoon among other rubbish.
Jayne added: "I am genuinely in shock at what I've seen and the fact that people are having to put up with that around them.
"The stairs are squalid and I am honestly surprised that nobody has been injured or killed.
"It's disgusting and we need to get on top of it."
Local councillor Charlie Malone said: "The residents at a particular property are living in accommodation that is filthy and, in my opinion, dangerous.
"Drugs paraphernalia was everywhere. Bairns live there apparently.
"There are times where the word despair is meaningless."
A spokesman for Dundee City Council said: "A single point of contact phone number can be used 24 hours a day for a rapid response to remove the potential danger.
"It is 01382 433063."