A self-styled Ghostbuster has thanked a couple who came to his aid after he suffered a heart attack while out walking his dogs.
A full-scale emergency response was launched after paranormal investigator Isaac Stewart from Kirriemuir became unwell while out on his daily walk with his dogs in Caddam Wood.
A fire crew attended to help paramedics get Isaac out of the woods.
Today, his daughter Amanda Stewart, 30, said her dad was well and stable in hospital.
She said: "Dad is quite embarrassed by the whole incident but he'd like to thank everyone who helped when he became unwell."
Amanda, a hairdresser, said Isaac had been on his usual walk when he fell ill.
She said: "He was discovered by a lovely couple who alerted the emergency services.
"The couple used dad's mobile phone to contact me and stayed with him until the ambulance arrived.
"They also looked after his dogs, got them home and then took my mum and I to hospital.
"Unfortunately, I didn't get their names but I know that they came from the Tannadice area.
"We are all very grateful to them for everything that they did.
"We'd also like to say a big thank you to all of the first responders for their help with dad."
In 2012, Isaac formed Kirriemuir Paranormal Investigators (KPI) and continues to be involved in helping people who are concerned about paranormal activity in their homes, including ghosts, spirits, the devil or demonic spirits.
KPI claims that it tries to find out what is causing the problem and locate haunted objects or rid the house of spirits.
In July, Isaac received his diploma in ghost hunting and paranormal investigation.
He works with families throughout Angus and Dundee who have concerns about paranormal activity.
A spokesman for the Scottish Fire and Rescue Service said: "We got a call from the Scottish Ambulance Service at 12.05pm on December 6 to assist them in removing a patient from Caddam Wood, Kirriemuir.
"Paramedics required our assistance to remove the patient from the wood because of the location.
"The patients had suffered a cardiac arrest while walking in the woods."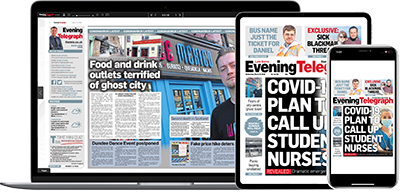 Help support quality local journalism … become a digital subscriber to the Evening Telegraph
Subscribe