Kind-hearted Dundonians have rallied round a city charity for autistic children which was the target of callous thieves.
Staff returned to Spectrum Dundee last Monday after the festive break to discover damage to the facility.
'Disgusted' staff at Dundee charity slam thieves who set fire to toys used by autistic kids
This is the second time the centre has been targeted, following another incident last summer where the garden area was vandalised.
The centre, on Claverhouse Road, provides an after-school club for children affected by autistic spectrum disorders and their families.
It supports more than 40 families and was established in 2001.
After the break, staff discovered that the shed roof was broken, the doors were damaged and two bikes in the shed were set alight.
However, publicity about the damage led to people all over Dundee offering to help.
Spectrum manager Lori Clark said: "We have had a fantastic response and offers of help and toys.
"We are so grateful for the offers and all donations.
"The response has been heart-warming for staff who have put so much time into providing play experiences for our children."
Play support worker Evelyn Patterson said: "The committee has had a fantastic response.
"It has been incredible, including from Asda in Kirkton who let us hold a bucket collection at the store on Saturday.
"Someone is also coming along now to look at installing CCTV at the centre in a bid to prevent this happening again."
She added: "I'm disgusted this has happened, we can't keep having things like this happening at the centre.
"This is the kids' outdoor area that they are meant to feel safe in. We don't have money to fix damages like this.
"It looks like the shed will have to come down. We couldn't let the kids outside in case they cut themselves."
A spokesman for Police Scotland said: "We have been made aware of the incident and inquiries are ongoing."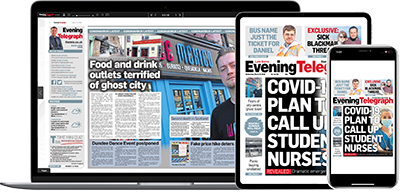 Help support quality local journalism … become a digital subscriber to the Evening Telegraph
For as little as £5.99 a month you can access all of our content, including Premium articles.
Subscribe